Checking in with former theater critic and reporter Damien Jaques
Not surprisingly, Damien Jaques' first job was as a paperboy for the Milwaukee Sentinel. Turns out this early form of employment foreshadowed a successful career in journalism that spanned four decades, during which time he served as a reporter for the Sheboygan Press, the Milwaukee Journal, the Milwaukee Journal Sentinel and, until his retirement, OnMilwaukee.
In 1972, Jaques – who was born in Oak Park, Illinois, and received a B.A. in political science from Marquette University – started working at the Milwaukee Journal as a general assignment reporter.
At the time, he was one of the youngest writers on the newsroom staff.
"I was in awe," says Jaques. "I soaked up everything I could."
Jaques started to also write concert reviews in the mid-'70s, when big acts started to perform at Milwaukee venues like the Arena, Auditorium and Summerfest.
"I reviewed the first big Milwaukee County Stadium shows – the Stones, the Beach Boys, Pink Floyd – and other historic concerts ranging from Springsteen and the Dead to Bowie and Lou Reed," says Jaques.
In 1980, Jaques became the Journal's first full-time theater critic. When the Journal and Sentinel merged in 1995, writers had to re-apply for positions and Jaques was again appointed to the theater critic job, which he kept until taking a buyout in 2009.
"A third of the newsroom left on the day I did," says Jaques. "My total time at the Journal and Journal Sentinel was 37 years."
The same year he left the Journal, Jaques accepted a job at OnMilwaukee, where he worked as a senior writer until 2012, covering a variety of entertainment-based topics from food to, of course, theater.
"I enjoyed my colleagues, the casual working atmosphere and the fact that I was my own boss," says Jaques. "But I knew retirement was not far off, and after 29 years of being a theater critic in Milwaukee, it was fun shaping the job in the way I wanted."
Damien Jaques (far right) with the OnMilwaukee staff at a "Mad Men" party in 2008.
Jaques fully retired in 2012 and, not being a fan of winter, he knew he wanted to relocate for part of the year to a warmer climate.
"I am a shorts, sandals and T-shirt guy, and I knew my retirement would be spent in the sun. The question was where," says Jaques.
Jaques and his partner, Alla, considered California, Arizona and Mexico, but ultimately decided Sarasota, Florida, was their best choice. Today, they spend seven months in Sarasota and parts of summer and fall in Milwaukee.
"Florida is the butt of a million jokes, and many of them are based on a kind of pathetic reality. But Florida is a big state that offers a variety of realities. It is not all bingo, shuffleboard and early bird dinner specials," says Jaques. "We chose Sarasota because of its cultural and intellectual vigor and the kind of people that attracts."
With two large theater companies, a professional opera company, ballet company, world-class art museum and numerous performance venues, Jaques finds himself culturally sated in Sarasota.
"We lead a very full life here in Sarasota. We are regulars at the South Florida Museum and Historical Society of Sarasota County events. We take lots of classes, are very involved with our Jewish congregation and are active in politics," says Jaques. "And then there are the beaches."
The couple live close to numerous beaches and 20 minutes from Florida's largest state park, Myakka River State Park, which Jaques describes as "a jaw dropping miniature version of the Everglades."
Although he continues to read voraciously, Jaques is not interested in writing journalistically these days. Jaques is longtime friends with Sarasota's local theater critic and arts editor and knows he could write an an occasional review if he wanted, but he's not interested.
"That is too much like work," he says. "I play around with writing things that would not fall into the category of journalism. It's just for fun."
Jaques says he misses seeing his Milwaukee friends year 'round, but is definitely living his golden years in the right place and with the right person. His plans for the future are productive yet simple.
"We have our eye on a couple of social welfare non-profits here for which we would like to volunteer and I would like to do a little more international traveling before we run out of money," says Jaques. "But being alive and healthy is at the top of our 10-year wish list."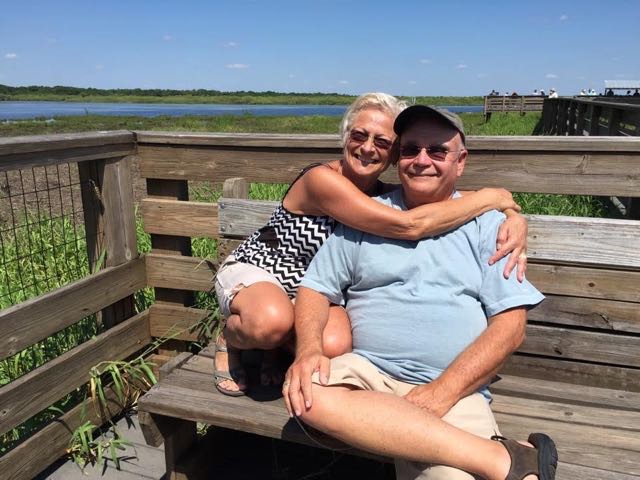 Facebook Comments
Disclaimer: Please note that Facebook comments are posted through Facebook and cannot be approved, edited or declined by OnMilwaukee.com. The opinions expressed in Facebook comments do not necessarily reflect those of OnMilwaukee.com or its staff.