The art of the game: 20 standout pieces from the Milwaukee Bucks Art Collection
Gallery:
Tour the Milwaukee Bucks Art Collection
Yesterday we got to tour the technology behind the brand new Fiserv Forum – basically the guts of the new structure. But Friday afternoon, two days before showing off the new arena to the public, the Bucks unveiled the building's soul: the Milwaukee Bucks Art Collection, filling the already shiny new halls with more 100 equally eye-catching original pieces of art.
"We created this to be a piece of art, to be something where people navigate the building and are curious and look at great things – and there's nothing better than art to be those magnets to go through that curious journey," said Bucks President Peter Feigin. "And boy, from sculptures to pictures to paintings, this is such an incredible place."
A combination of 32 artists – 22 of which come with Wisconsin ties – and 170 students created the 79 pieces and 43 photographs that cover the Fiserv Forum's walls, adding just another level of eye candy to the new facility and turning blank hallways and waiting areas into colorful, focus-capturing spaces. As far as guidance, Feigin noted that they gave the artists a generally blank slate for their Fiserv Forum works.
"We gave a narrative of what we were looking for," Feigin explained. "We wanted obviously to have an authentic Wisconsin feel. We did not want this to be solely about basketball; we wanted it to be about environment, about space, about fun and dynamic and different. So that was the outline of what we did – and how we ended up with such a great collection."
And according to Feigin, there's much more to come.
"This is very organic," he added. "This is kind of the base of it, with over 120 pieces, and as we figure this building out, as figure out paths of traffic and different lighting and spaces, we'll continue to add art and move it and pivot and constantly improve."
Obviously there will be plenty to see on Sunday when the doors officially open to the public, from the dozens of artworks on the walls to the brand new walls themselves. But here are 20 of the pieces you should definitely seek out on your first trip though the 414Forum.
1. "Brick by Brick"
Artist: Greg Gossel
Location: Juneau Avenue
The first part of the Milwaukee Bucks Art Collection at the Fiserv Forum isn't inside the Fiserv Forum at all. This long-stretching mural is the first work many will see of the new venue's gallery, and it's quite the looker – even if the name, "Brick by Brick," maybe doesn't inspire the most confidence for a basketball arena. Plus, it's one of the few pieces of art to acknowledge Marquette University, who will also play in the 414Forum. (Alma mater, represent.)
2. "Colorful Past, Bright Future"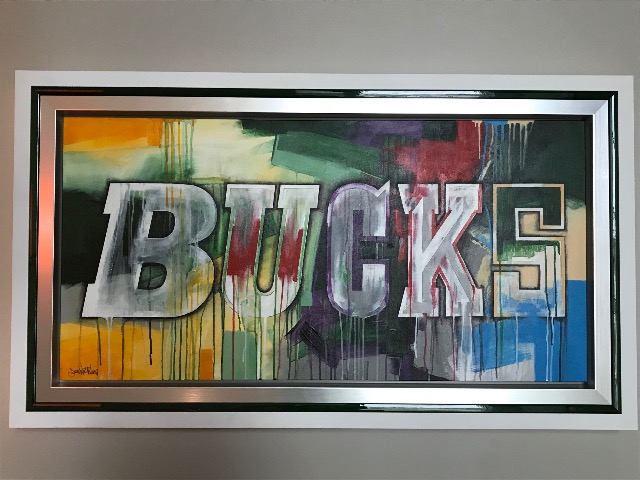 Artist: Dave Watkins
Location: Outside Suite 12
I'm a major typography and uniform nerd, so this work is right up my alley, combining all of the team's logos and typefaces across its history, shoving them together to spell out Bucks and splattering their respective colors across the canvas – history and the team all running together and evolving into the future.
3. "Buckley"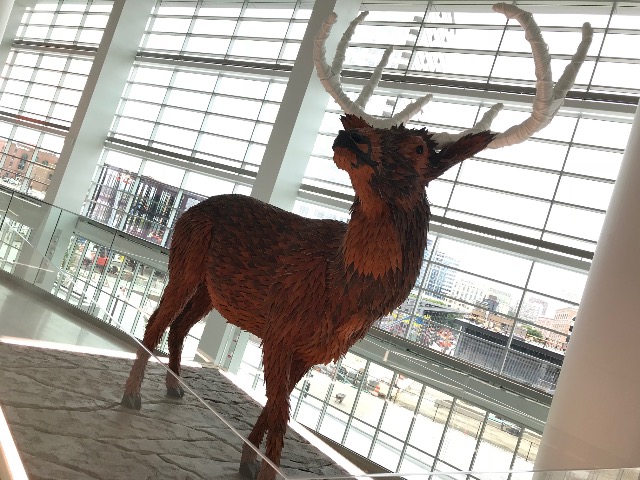 Artist: Blake McFarland
Location: Main Concourse East
Meet Buckley. He's made of basketballs.
No really.
4. "Milwaukee Made"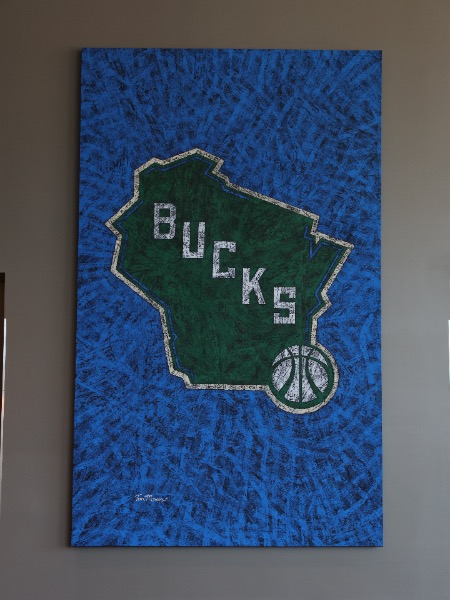 Artist: Tom Mosser
Location: West Bend Lofts
When people use words like "standout" or "epic" to describe the Milwaukee Bucks Art Collection, they're likely thinking of this massive piece from Tom Mosser, which brightly looms over the West Bend Lofts hallway area. It brings a big, eye-catching splash of color to what could just be a boring elevator waiting area, it makes beaming use of the Bucks Lake Michigan blue – one I look forward to being incorporated more into alternate uniforms in the future – and, as a nifty bonus detail, the texture and patterns on the painting are clearly made from a basketball.
5. "Colorful Court"
Artist: Vedale Hill
Location: Outside Suite 17
This work would already catch your eye with its color, cleverly turning the Bucks' team shades in this luxurious creamy sunset tone. But as the above photo shows, it's also eye-catching with its tricky perspectives, as the net's shadow against the canvas is actually painted on, while the net and rim itself is three-dimensional, coming right out of the piece. Talk about standing out.
6. "Milwaukee Bucks Word Art"
Artist: Michael Shay
Location: Outside Club Lounge - Suite Level
I feel like I could stare at this piece all day and still find new names and Bucks icons tucked inside. Also: Congrats to Brandon Jennings for both having prime position in the design as well as the cleanest typography.
7. "Hangtime"
Artist: Eugene Carter III
Location: Outside Suite 6
While original paintings and works make up a majority of the Milwaukee Bucks Art Collection, 43 photographs are also included – such as this notable shot from Milwaukee photographer and designer Eugene Carter III. It captures the extreme emotion of sports from a fittingly extreme angle that you normally don't see (unless you get regularly dunked on).
8. "Sam I Am" and "Big Dog"
Artist: Derek Carlson
Location: Outside Suite 32
As one who grew up during the Big Dog/Sam Cassell era Bucks – and as one who grew up grabbing the sports section to look at the standings and box scores – these two works are a nostalgic delight. But even outside of the blast from the past, the combination of the detailed, textured paintings and the flat newspaper backgrounds make for an almost 3-D pop, the stats coming to life right on the page.
9. "Outside Threat"
Artist: Nicholas Schleif
Location: Outside Suite 23
Sports biographies aren't normally the most interesting reads – unless they're like this "visual biography" of former Bucks sharpshooter Ray Allen, using his career's many accomplishments and achievements as the paint for his portrait.
10. "We Got Next"
Artist: Alex Woodhouse
Location: Outside Club Lounge - Suite Level
OK, so cows are a Wisconsin cliche – but they're brightened up, quite literally, with the beaming basketball providing the lone spark of color to the crisp black-and-white photo. And also the name of the piece is adorable.
11. "Hard Pressed" and "The Swingman"
Artist: Charly Palmer
Location: Outside Suite 13
These two action shot paintings would be noteworthy on their own for the beautiful shading and detail on the famed Bucks figures. But add in the unique textures that form the backgrounds of both works, and they become pieces you can get lost in.
12. "Untitled"
Artist: Andi Woodward
The hardwood may be where most eyes are focused in the new arena, but this beautifully crafted woodwork piece of a buck standing proudly on a hill against the wind (at least that's what I'm reading into the wavy wood pattern of the background) is definitely worth a long look too.
13. "Eras"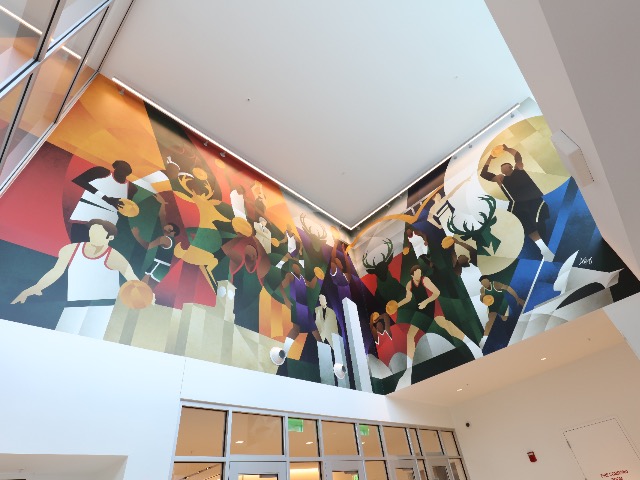 Artist: Anthony Rozwadowski
Location: BMO Entrance
Similar to "Colorful Past, Bright Future" – just a little cleaner – "Eras" brightly chronicles and overlaps the evolution of the Bucks across a large mural. And even though the silhouettes have no faces, you can just tell who many of them are just by their iconic shots and positioning.
14. "The Dunk"
Artist: John Robertson
Location: Outside Suite 25
Dunks are awesome, so it would make sense that paintings of dunks would also be awesome. My favorite detail is the shading on the top of the basketball, making it look like the player gripping the ball so tightly on the way up that he left fingerprints.
15. "Highlights"
Artist: Carrie O'Malley
Location: Upper Concourse Atrium
What can I say, I'm a sucker for a good mosaic. It's precise yet playful, gathering some of the city's icons into one work.
16. "In the Paint" and "From the Arc"
Artist: Brandon Minga
Location: Mezzanine Club
There's plenty of shiny, fancy and new inside the new Fiserv Forum, but a hard-working, gritty, industrial and textured city like Milwaukee deserves a work that represents that aspect of the town as well. And so there are these pieces, creating lanes on the court with rusty metals, marble and other materials and textures – new and old combining together.
17. "#33"
Artist: Cole Kluesner
Location: Outside Suite 34
A basketball icon and a hero to bespectacled kid athletes everywhere (though he wore his goggles because he was tall and kept getting poked in the eyes, whereas I wore Red Specs because my eyes suck), brought to life with this lovely and colorful painting.
18. "Autumn in Milwaukee"
Artist: Rose Curley
Location: Outside Suite 18
Not all of the pieces in the Milwaukee Bucks Art Collection involve basketball or the new arena. Take, for instance, this work from Milwaukee native Rose Curley, which simply captures the energy of the city in fall with some of Downtown's iconic buildings and elements. Damn that's a fine looking city.
19. "Marques," "Bogut 6," "Junior," "22-Redd," "Big Dog," "Kareem," "Vin in Purple" and "TC"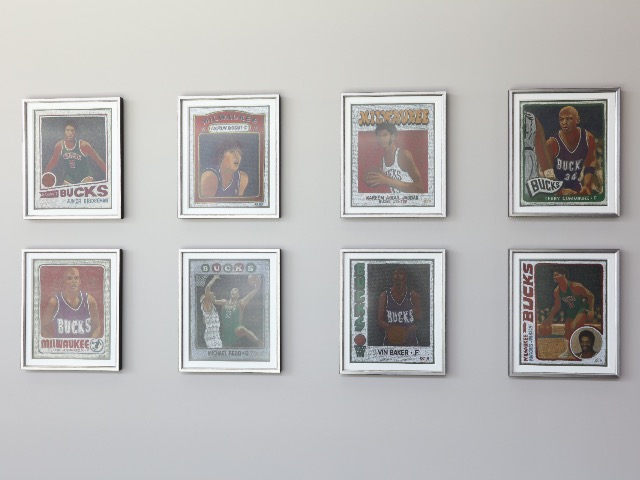 Artist: Kevin Callahan
Location: Outside Suite 22
As one who still has binders from childhood filled with preserved baseball and basketball cards, seeing these old-school collectors items become beautifully replicated art is a treat. Plus it makes me want to get collecting again.
20. "Greek Freak"
Artist: Samantha Wendell
Location: Outside Suite 19
Of course. The North Hollywood-based artist's other paintings of Bucks icons – like Kareem, Oscar Robertson and Jon McGlocklin – are great as well, almost photo-like in their smooth detail. But this is the only one with the Greek Freak.
Facebook Comments
Disclaimer: Please note that Facebook comments are posted through Facebook and cannot be approved, edited or declined by OnMilwaukee.com. The opinions expressed in Facebook comments do not necessarily reflect those of OnMilwaukee.com or its staff.