Ballet's costume shop pivots its needles to making masks
With performances coming to a halt at the Milwaukee Ballet, the staff is now preparing for a different kind of activity.
According to Artistic Director Michael Pink, the Ballet's production of "Peter Pan" is being postponed, but the company's Third Ward headquarters and studios at the Baumgartner Center for Dance will not go dark.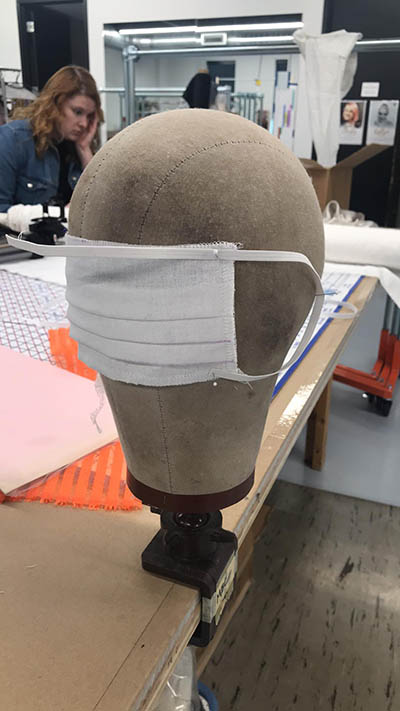 Instead, the Ballet will turn its attention to new challenges, including making masks to help community members stop touching their faces during the COVID-19 outbreak.
If these talented stitchers can make the beautiful and elaborate costumes for the Ballet's productions, surely they can get the job done in this case.
"We had to cancel our March program 'PUSH,' and we are unfortunately postponing our May performance of 'Peter Pan'," says Pink. "This crisis is devastating for a company like ours that invests so much into our work on stage.
"Our dancers and costume and wardrobe teams will go on layoff from Monday. Our sewing machines would have been silent but our team has turned right around to volunteer their talents in a different, but equally positive way."
On Saturday, Ballet Costume Manager Mary Piering began to mobilize her staff – which typically numbers six – to make masks, and perhaps some gowns. While they didn't yet have formal guidelines on the specifications, they began honing their mask-making skills.
The shop is twice the size of the shop Piering and her staff occupied at the Ballet's previous location in Walker's Point.
"We don't have the formal instructions or materials from our hospitals yet," says Pink, "but we are practicing with what we have. We have started with linen/cotton masks.
"It's great for the morale of our team to focus their efforts on helping how we can."
Piering and others were experimenting with materials and making basic prototypes on Saturday so they'll be ready to spring into action once they do get specific guidelines.
To start with, they've been using materials from the Ballet's own stock – leftovers from "Beauty and the Beast" – testing to see which fabrics might be moisture resistant yet breathable.
"We know these masks are not medically approved, but we will keep doing our best with what we have until we get the formal instructions from Froedtert," says Piering.
Even masks not suitable for hospital use can help users touch their faces less and can serve as a reminder to others to maintain social distance.
Piering estimates that it might take around 15 minutes to make a mask, but is planning to streamline the process with an assembly line with someone to iron the pleats, serge the seams, add the elastic.
"If we can go into production, we are going to tie a tiny piece of tulle on the elastics so they know they are made with love by Milwaukee Ballet," says Managing Director Anne Metcalfe.
Piering has put a call out to her regular sewing staff, but laid-off dancers will be able to volunteer, too, and, if there is enough demand, the Ballet may also allow families and students in its School and Academy – who have sewing experience – to participate.
"We have to be mindful of the CDC's social distancing and hygiene recommendations," says Metcalfe, "(but) thankfully that space is really large so we can fit up to 10 with plenty of space in between (and) that's just with the machines we have. If we needed more, we have a lot of studios free right now."
Anyone wishing to support Milwaukee Ballet's operations during this difficult period, please visit milwaukeeballet.org/relief-fund.
A number of others, including local fashion designers, are also making masks, including Shanel Regier, Lynne Dixon and Miranda Kay Levy.
Facebook Comments
Disclaimer: Please note that Facebook comments are posted through Facebook and cannot be approved, edited or declined by OnMilwaukee.com. The opinions expressed in Facebook comments do not necessarily reflect those of OnMilwaukee.com or its staff.