Artist of the day: Renee Bebeau
The coronavirus pandemic has changed our everyday life, but it doesn't need to change who we are. So, in addition to our ongoing coverage of the coronavirus, OnMilwaukee will continue to report on cool, fun, inspiring and strange stories from our city and beyond. Stay safe, stay healthy, stay informed and stay joyful. We're all in this together. #InThisTogetherMKE
Renee Bebeau is a multi-medium artist, but applying henna designs on both people and canvasses is one of her most passionate creative endeavors. Bebeau provides henna tattoos at festivals, special events and private parties (hire her when socializing is safe again), and she also makes henna to hang on the wall.
"These pieces are made by applying henna to a wood surface. Some of the wood is scrap that I repurpose from my step dad's woodworking business. He gave me a round disc once and it was perfect for a mandala," says Bebeau.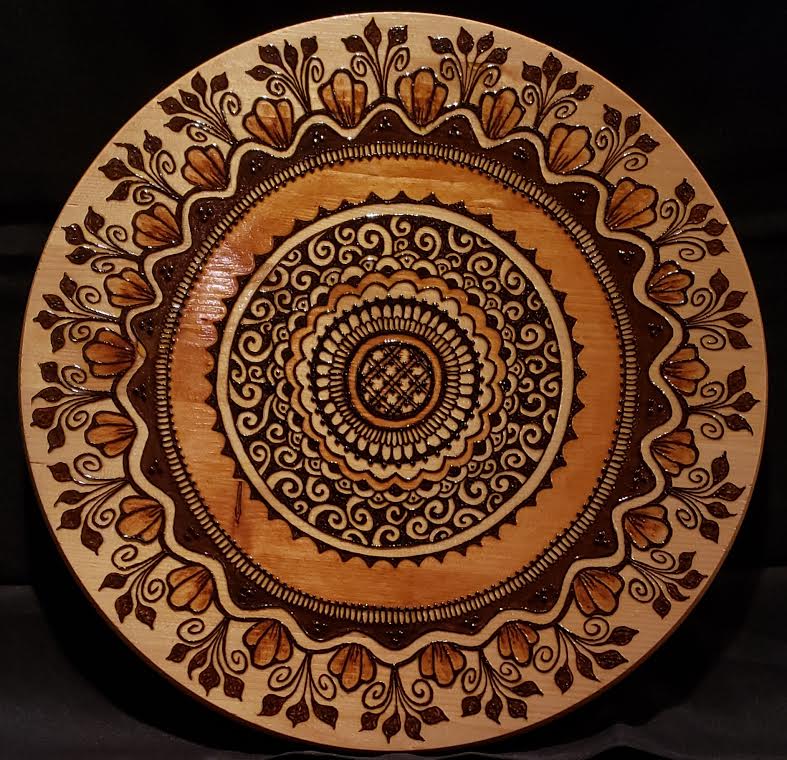 Every henna piece is a one-of-a-kind design and comes from her fascination with the temporary nature of things, cycles of life and mysteries that lie beneath the surface.
"I create all original designs which are mostly invented in the moment as I work.
I sometimes do a simple pencil drawing or use a compass first to get a few guide lines down. The paste stays raised up on the wood surface as it dries and then I apply many clear coats to preserve the design," says Bebeau.
Bebeau also offers hand-painted clothing, glass mirror etching, wall art including a "compost series" and much more. View it here.
Bebeau, a native of Waukesha, has lived in Milwaukee for her entire adult life. Today she resides in Riverwest with her husband, artist Todd Mrozinski.
"I focused on art in high school but ended up going to Cosmetology school for a more 'practical' career, something that I enjoyed doing and that felt creative enough at the time," she says. "It took 20 years before I would paint again after being encouraged and schooled by my husband, Todd."
Like most artists, all of Bebeau's events were cancelled, including a wedding party. Bebeau also practices body work / reiki which is another source of income that's now on hold.
"The pandemic has really emphasized how much I come in contact with the public through the various work that I do," says Bebeau. "But when all of my work got canceled, the juices started flowing about all the alternative ways that I can generate income with all the opportunities for online visibility and sales of my artwork. It has motivated me."
Follow Renee Bebeau on Facebook and Instagram.
PHOTO: Lindsay Kilkenny Photography
Facebook Comments
Disclaimer: Please note that Facebook comments are posted through Facebook and cannot be approved, edited or declined by OnMilwaukee.com. The opinions expressed in Facebook comments do not necessarily reflect those of OnMilwaukee.com or its staff.