City kicks off restaurant grading system with today's 5 O'Clock Steak inspection
The City of Milwaukee's restaurant Sanitation Grading System kicked off this afternoon when the Milwaukee Health Department made an anything but surprise inspection visit to Five O'Clock Steakhouse, 2416 W. State St.
Joining inspectors were Alds. Michael Murphy and Robert Bauman, who helped get the program, which is like ones long in use in other cities, going. Health Department Commissioner Bevan K. Baker was also on hand.
The system awards letter grades that must be clearly posted at restaurants, which will get an A, B or C grade based on inspections. A grade of C or lower could force a restaurant to close if the department finds what it believes is an imminent health hazard. (A more detailed explanation of the system is below.)
Restaurant inspections are usually conducted without advance notice and Five O'Clock Steakhouse managing partner Stelio Kalkounos said that his restaurant recently underwent a surprise check.
"We had one in November and (the) equivalent score would have been an A," he told me.
Today's inspection was as much media launch of the system as anything else. The restaurant scored a perfect 100, which is good for an A.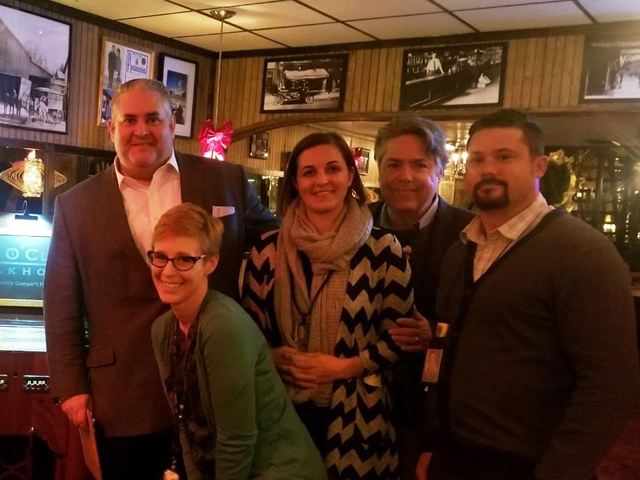 Five O'Clock Steakhouse managing partner Stelio Kalkounos (left), with Ald. Michael Murphy (second from right)
and health department officials at Tuesday's media event.
The system rates not just restaurants, but all food purveyors, including grocery stores, convenience stores, food trucks and street peddlers.
"Any food operator that cares about their business and the health and safety of their customers should have no problem adapting to this new sanitation grading system," Kalkounos says.
"The Five O' Clock has been a staple in the Milwaukee restaurant scene for 72 years and we are proud to maintain high quality food preparation and sanitation practices."
The program was developed over the course of "several years" by the Health Department, Murphy and UW-Milwaukee's Executive MBA Program, according to a statement issued by the Common Council today.
That same release noted that the first Sanitation Grading System inspections are slated to begin this month. Posting of grades is voluntary in the first year, but beginning in 2019, restaurants will be required to post the grade signs.
Here's how the grading system works, according to the Health Department website:
"Milwaukee's Sanitation Grading System assigns a letter grade to the point value earned during an establishment's routine annual inspection. Because good sanitation and health practices need to be practiced every day, the final letter grade will be a weighted average of several inspections to reflect how well a restaurant has performed over time, not just on a single inspection.

"At the annual routine inspection, a food service establishment's point total will result in a letter grade score following the below criteria:

A = 100%-79%
B = 78%- 60%
C = Below 60%
Temporarily Closed = Less than 60% or imminent health hazard. The establishment will re-open after all priority violations have been corrected and the imminent health hazard is eliminated.

"Food service establishments can earn points back upon re-inspection. Corrected violations will earn points back based on the FDA violation criteria and point values.

"The final letter grade assigned to a food service establishment will be a weighted average of the previous three inspections. In 2018, the first year of the Sanitation Grading System, the initial routine inspection will be 100% of the grade. In the following years, the final letter grade will be the weighted average of the most recent inspection and the previous year's.

"2018: Initial routine inspection for 2018 will be 100% the letter grade.

"2019: Initial routine inspection for 2019 will account for 50% of the final grade, with 50% from the previous 2018 inspection.

"2020: In the third year, the most recent inspection will be worth 50% of the letter grade, 35% of the grade will be from the previous year's routine inspection, and 15% from the year before."
Facebook Comments
Disclaimer: Please note that Facebook comments are posted through Facebook and cannot be approved, edited or declined by OnMilwaukee.com. The opinions expressed in Facebook comments do not necessarily reflect those of OnMilwaukee.com or its staff.