New Turner Hall signage and parklet further enhance a landmark's luster
This week, Turner Hall, 1040 N. Vel R. Phillips Ave., received something of an exterior makeover.
On Monday, workers installed a new 22-foot-tall blade sign that spans the second and third floors to the north of the main entrance. Smaller signs were added near the first floor advertising the Tavern at Turner Hall – next to the main entry – as well as, near the entrance to the gym, a circular sign that reads Climbing Gymnastics.
Meanwhile, on Tuesday, workers were also putting the finishing touches on a new parklet patio deck in the former loading zone in front of the building.
According to a press release issued by The Pabst Theater Group, which runs the Turner Hall Ballroom on the top floor, "The installation of new signage celebrates Turner Hall, a National Historic Landmark, that remains a dynamic and unique destination in the Entertainment District."
Built in 1882 to designs by architect Henry C. Koch – the same architect that designed City Hall, Gesu Church and The Pfister Hotel, to name but a few – Turner Hall is as stunning a building as you'll find in Milwaukee, with eye-catching masonry and a distinctive tower atop the central bay.
A number of years ago, I did an Urban Spelunking tour and history of the building that you can read here.
"I can't think of a better place to combine the past of the City of Milwaukee, the present of the City of Milwaukee and the future of the City of Milwaukee," said Mayor Tom Barrett, "all within 100 yards of each other."
With changes on tap at the former Bradley Center and Journal Sentinel sites across the street from Turner Hall, the face of 4th and State continues to undergo a major transformation.
If Fiserv Forum is an architectural touchstone of the modern city, Koch's Turner Hall is an equally iconic face of Old Milwaukee, and that the two face each other is a perfect summation of where Milwaukee shines: at the intersection of tradition and modernity. It is also a fine example of Jane Jacobs' postulate that a vibrant city requires a mix of old and new buildings.
They are both also testaments to Milwaukee's culture of sports.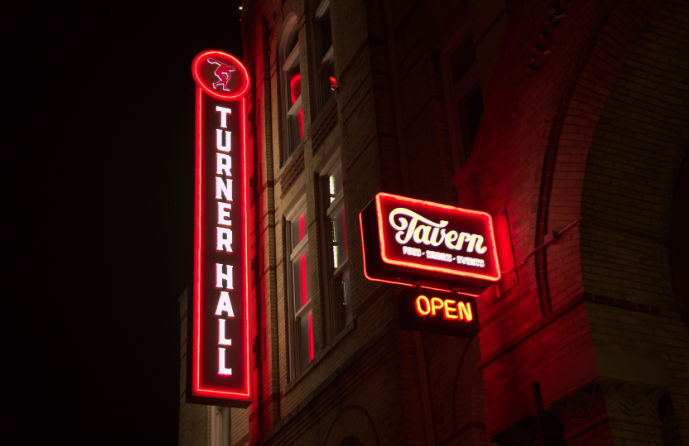 (PHOTO: The Pabst Theater Group)
While the new arena is a symbol of the resurgence of the Bucks, Turner Hall has been a locus of physical fitness for nearly 140 years.
Built by one of the city's Turnverein – athletic societies founded by German and Swiss immigrants – Turner Hall was built on its motto of "Sound Mind in a Sound Body."
"Turner Hall is here only because of the dedication of immigrants and refugees from oppression abroad, to promote physical fitness and social justice in America, and in Milwaukee in particular," said Turner President Art Heitzer.
While the signs – created by Poblocki Sign Company – which have the kind of vintage feel that The Pabst folks have embraced at all of its venues, the new parklet brings the party out onto the street in the same spirit that the Deer District does an identical thing just across Highland Avenue.
"Turner Hall is a historical fixture in our community that embodies a rich history while keeping up with the modern development around it," said Gary Witt, CEO of The Pabst Theater Group.
"As the entertainment district grows, Turner Hall Ballroom will grow right along with it and continue its legacy as a historic entertainment venue in a modern day Milwaukee."
Turner Hall celebrates the new signage with a $5 fish fry special (with a drink purchase) from 5 until 8 p.m. on Friday, Aug. 9, as part of an open house, that on Saturday, Aug. 10, from 1 until 7 p.m., includes specials all weekend, a parking lot pig roast, yard games, music, a bounce pad for kids, slackline and other gym demos including a slackline for kids and adults, and tours of the Turners Climbing Gym and Turner Hall Ballroom.
Facebook Comments
Disclaimer: Please note that Facebook comments are posted through Facebook and cannot be approved, edited or declined by OnMilwaukee.com. The opinions expressed in Facebook comments do not necessarily reflect those of OnMilwaukee.com or its staff.