Marquette announces new business building on the former McCormick site
Now that Marquette University has finished squashing the so-called "beer can" – more formally known as McCormick Residence Hall – at the corner of 16th and Wisconsin, the university has unveiled a new building for the site.
In his presidential address on Thursday, university President Michael R. Lovell said that Marquette will erect a new five-story home for the College of Business Administration.
The $70 million building was designed by Kansas City-based BNIM architects.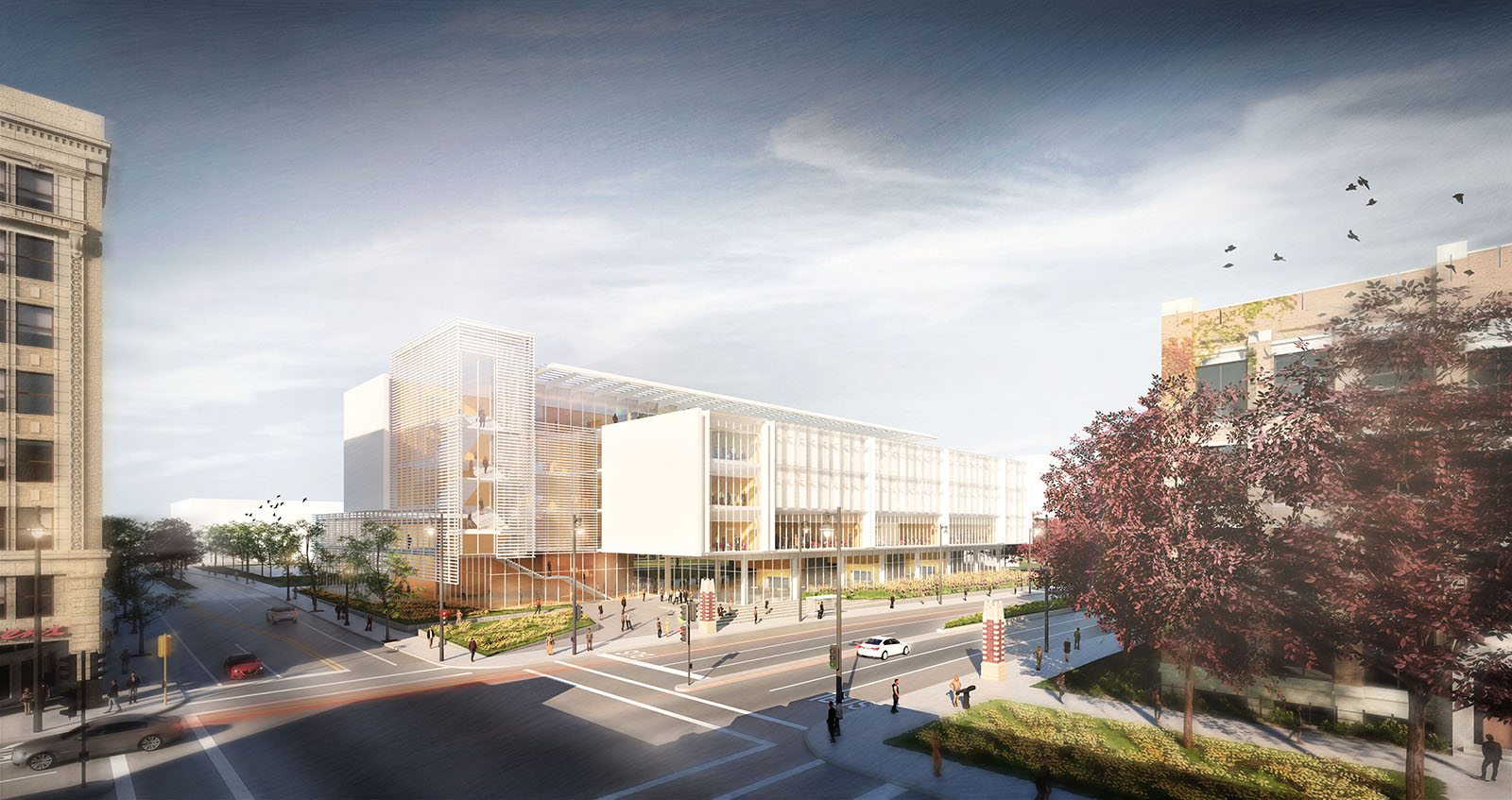 It will be funded primarily from donations from "alumni, parents and friends," according to a statement issued by Marquette after the address. So far, the project has garnered more than $44 million, including a dozen gifts of more than $1 million each.
The university hopes to break ground on the project in autumn 2021.
"Through innovative design features and flexible learning spaces, our newest academic facility will help foster creative thinking for students from all disciplines," said Lovell.
According to the statement, the new building will also be home to an interdisciplinary innovation space for leadership programs like the "Excellence in Leadership" (E-LEAD) program, created by Dr. Kristina Ropella, dean of the Opus College of Engineering.
Faculty, staff, students and alumni will participate in the design process for the new building, according to Vice President for Planning and Facilities Management Lora Strigens.
In addition to the innovation hub, the new building is expected to include a multipurpose event space, upgraded labs and classrooms, and a pitch stage upon which students can share their ideas in competitive pitches. (Maybe Marquette will land itself a chance to host "Shark Tank.")
The College of Business Administration has been housed in Straz Hall, built in 1950 with an addition in 1983, for the past 35 years.
McCormick Hall, which was deconstructed over the past couple years, was designed by Brielmaier, Sherer & Sherer and opened in 1968. Students dubbed it the "beer can" for its distinctive, mostly cylindrical shape.
In contrast to its vertically oriented 14-story predecessor, the new building is long and low with a largely transparent white exterior – with sun-dampening features – that offers views into light reddish-brown wood interior features.
Facebook Comments
Disclaimer: Please note that Facebook comments are posted through Facebook and cannot be approved, edited or declined by OnMilwaukee.com. The opinions expressed in Facebook comments do not necessarily reflect those of OnMilwaukee.com or its staff.