100 things to do during a Milwaukee winter
Note: The contents of this guide were checked for accuracy when this article was updated on Jan. 9, 2018 at 1:36 p.m. We continually update the thousands of articles on OnMilwaukee.com, but it's possible some details, specials and offers may have changed. As always, we recommend you call first if you have specific questions for the businesses mentioned in the guide.
With icy temperatures and snowflakes returning to the forecast, you may be dreading another wicked Wisconsin winter. Have no fear. Whether you're game for braving the blustery outdoors or would rather be plopped in front of the fire in layered-up long johns, we've got the goods to make the most of a Milwaukee winter.
Enjoy again or for the first time, this classic OnMilwaukee.com "100 things list," updated for the 2017 holiday season:
1. Venture inside the warm and illuminated Domes
2. Sip wine or drink a pint in front of County Clare fireplace
3. Enjoy a romantic carriage ride Downtown
4. Ski on the frozen Milwaukee River (at your own risk)
5. Cross country ski in Grant Park
6. Go sledding at Northpoint (again, the risk is your own)
7. Toboggan at your favorite park
8. Ice skate at Red Arrow Park (now open)
9. Fondue!
10. Bumper ski behind a friend's car (carefully in a parking lot, please!)
11. Tell Santa what you want at Bayshore Town Center
12. Do donuts in a Pick 'n Save parking lot
13. Warm up the tummy with Soup Bros. soup
14. Hot chocolate at Colectivo or after dinner drinks at At Random
15. Winter golf
16. Ice fishing
17. Snowmobile at Bong Rec Area
18. Build an igloo on the lakefront
19. Take the Polar Bear Plunge on New Year's Day
20. Snow suits / moon boots
21. Heat up in the sauna at The Tubs
22. Enter an ice sculpture contest
23. Cruise around Winter Gallery Night and Day
24. Tailgate at Lambeau Field, but keep those mittens on
25. Tour The Pabst Mansion
26. Slurp some tasty matzo ball soup at Benji's
27. Take in the lights on Candy Cane Lane or Country Christmas
28. See "A Charlie Brown Christmas" at the First Stage Children's Theater
29. Cut down your own Christmas tree
30. Celebrate Kwanzaa with your community
31. Call the chimney sweep and clean out all those ashes
32. Erect a Festivus pole
33. Go buy yarn and make your own scarf
34. Take a tropical vacation
35. Make (naked?) snow angels in the front yard
36. Buy a new board at Bigfoot Bay View
37. Winterize your car
38. Catch rays in a tanning bed
39. Take in the holiday scene at Holy Hill
40. Get chili powder at the Spice House
41. Brew your own beer
42. Stay at home and snuggle up
43. Chop the icicles off your gutters
44. Get out the snow blower and go to town
45. Shovel your elderly neighbor's sidewalk
46. Grow a beard for warmth
47. Buy de-icer for your glove compartment
48. Hitch your pup to a sled and take a free ride
49. Cover up your toes with warm, wooly footies
50. Be happy you don't live further up nort, eh
51. Go Christmas caroling
52. Ride a sled down a hill
53. Build a snowman
54. Don't eat the yellow snow
55. Play some snow football
56. Learn to curl
57. Bake holiday cookies, or just buy some at the Public Market
58. Donate to your favorite local charity
59. When forecasters predict a "dusting," expect five feet of snow
60. Figure out when it's a parking "Snow Emergency"
61. Make your own wine hot cocoa
62. Wear the sweater Grandma got you last year
63. Turn up the heat and have a Hawaiian party
64. Pack on the pounds, hide it with big sweaters
65. Count down till wonderful day when pitchers and catchers report
66. Tour art galleries in the Third Ward and buy something to hang in the living room
67. Check into a B&B in Door County
68. Go winter camping
69. Frolic with your dog at a dog park
70. Tour the Carmex factory, and stock up for winter
71. Drink some Lakefront holiday brew
72. Have yourself an Edgar Allan Poe moment and curl up with a spine-tingler from a local bookshop
73. Spark up a snowball fight with the neighbor kids
74. Treat your wind-burned skin to a day of pampering at a spa
75. Prevent your brain from becoming slush, take a class at 76. Whiskey warms you from the inside
77. Relive your high school days with a good mall-crawl, minus the big hair and rolled jeans
78. Find a bar with a fireplace in it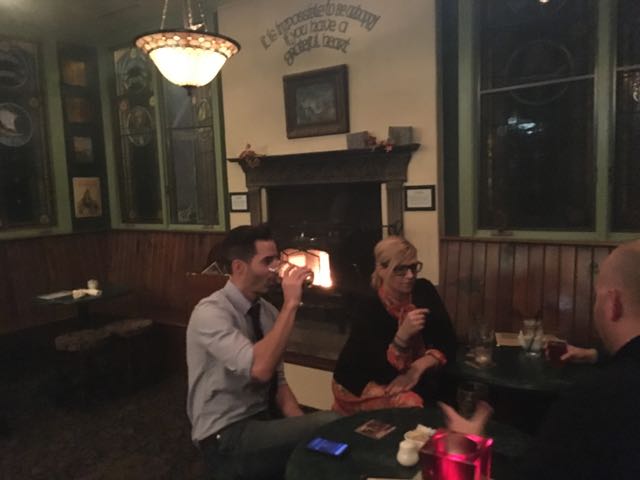 79. Play pond hockey on Lake Ernie in Franklin
80. Decorate your tree while listening to your favorite Milwaukee bands
81. Invent a new snow sport. Snow croquet? Ice bowling?
82. Call your grandma or grandpa. They're even more lonely and cooped up in the winter
83. Put a snowball in your freezer to throw at someone (gently) in July
84. Drink mulled wine
85. Snowshoe in Doctor's Park
86. See the Admirals skate at the UW-Panther Arena.
87. Roast chestnuts on an open fire
88. Go to a warm tavern, and drink cold beer
89. Watch early morning soccer at Highbury
90. Insulate your attic
91. Pack up your skis and head Da U.P.
92. Write to Summerfest requesting bands for next year
93. See some hoops. Hit a Bucks, MU or UWM game
94. Figure out the difference between winter storm watch and winter storm warning
95. Finally put those old photos in albums
96. Take the laptop or iPad to Cathedral Square Park and wi-fi it up in the snow
97. Swirl candy canes in your hot chocolate for a peppermint-chocolatey treat
98. Help the St. Benedict ministries feed the hungry
99. Make an ornament out of Popsicle sticks in memory of the good old days
100. Be merry. Say hi to your neighbors. Be the change.
Facebook Comments
Disclaimer: Please note that Facebook comments are posted through Facebook and cannot be approved, edited or declined by OnMilwaukee.com. The opinions expressed in Facebook comments do not necessarily reflect those of OnMilwaukee.com or its staff.