Colectivo's second Chicago cafe is open and a third is underway
Colectivo opened its second Chicago cafe just before Christmas and is working on its third Windy City location now, too, according to spokesman Scott Schwebel.
The new cafe is in the ground-floor retail space of a new 216-apartment, two-tower development called MiCa, at 2261 N. Milwaukee Ave., in Logan Square. The complex's website boasts that MiCa is "where Milwaukee meets California."
While the tagline likely refers to Milwaukee Avenue in Chicago, thanks to Colectivo's cafe it now has a double meaning, too.
"Logan (Square) opened right before Christmas," Schwebel says. "We didn't make too much of a fuss about it. It has gotten rave reviews from Chicago media and press, however."
In fact, Eater Chicago posted a nice photo essay on the new cafe the week it opened, saying, "This new location … will also include a patio — 1,500 square feet with room for 60 seats and a fire pit.
"Few customers will use the patio over the winter, but they'll have 70 seats within a 2,200-square-foot interior to enjoy their drinks. The shop will also pour Colectivo's own beers, as well as serve sandwiches and pastries. The location also includes floor-to-ceiling storefront windows that open, and custom-fabricated furniture."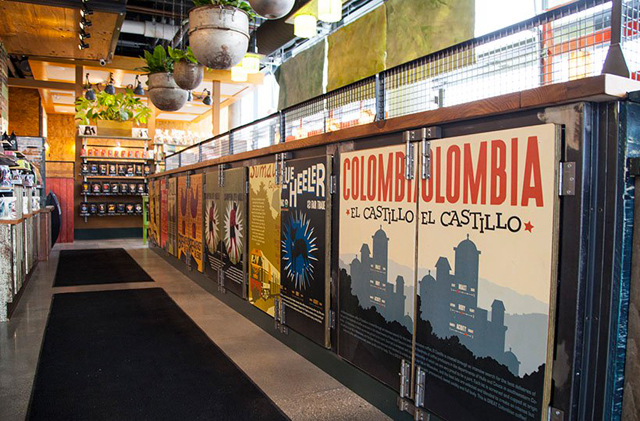 "We love Logan Square," Schwebel said. "It's full of diversity and has great creative energy. Lots going on and we are happy to be participating. It's truly a great urban neighborhood!"
Colectivo opened its first Chicago location in the Lincoln Park neighborhood in May, and another is coming.
"Yes, we are underway on our third location," Schwebel confirms. "(We) just started demo on a corner storefront."
This new cafe will be in Andersonville, a north side neighborhood near the lake.
"Another fiercely proud neighborhood with a diverse historical fabric," says Schwebel. "Our locations our intentional."
Schwebel says even more Chicago cafes might be in the company's future, too.
"We see great opportunity in Chicago. Along with that opportunity comes the responsibility of operating and delivering a level of quality to our customers which is difficult to do with merely one or two locations. We want to be able to operate like a local business; that requires a certain amount of scale to do effectively.
"It's easy to say 'let's open something in Chicago,' but it's naive to think that's all you have to do."
While I had his ear, I also asked Schwebel about plans for a second location for Colectivo's burger and ice cream place, The Ruckus, in Shorewood. When plans for a Tosa location died in April, he suggested that a second site might still be in the works, though there was no specific plan at the time. That remains unchanged.
"No second Ruckus in the works at the moment," Schwebel said. "We get lots of inquiries asking us for it."
In addition to its two Chicago locations, Colectivo currently has 13 Milwaukee-area cafes and three in Madison.
Facebook Comments
Disclaimer: Please note that Facebook comments are posted through Facebook and cannot be approved, edited or declined by OnMilwaukee.com. The opinions expressed in Facebook comments do not necessarily reflect those of OnMilwaukee.com or its staff.