Downer Avenue's long-lived Tuxedo Bar lives on in Milwaukee memories
"Bar Month" at OnMilwaukee is back! For the entire month of March, we're serving up fun articles on bars, clubs and beverages – including guides, the latest trends, bar reviews, the results of our Best of Bars poll and more. Follow along with the #DrinkOnMke hashtag too. Grab a designated driver and dive in!
Recently, a reader asked about the Tuxedo Bar, which operated for decades at 2647 N. Downer Ave.
Though it closed by the end of the 1970s, some folks still remember it fondly.
"For hundreds, perhaps thousands of UWM students, as well as innumerable East Side hipsters, The Tuxedo Bar on the west side of Downer Avenue, between Park and Belleview, was the go to place for adult refreshment and community reinforcement," wrote Edward Ehrlich on Facebook in September.
"But like everything else, times change, and the Tux is now just a memory. Sendik's now occupies the entire building."
Having just missed the Tux era by a few years, I did some digging and was surprised to learn just how long-lived it was.
The building that is now entirely occupied by Sendik's on Downer, was built by the Schlitz real estate arm in 1909 to designs by the brewery's preferred architects Kirchhoff and Rose and originally had five storefronts capped by second-floor apartments and office space.
The corner spot was long home to a drug store (Lake Park Pharmacy at the end) and the next one south flip-flopped for years between a grocery, a meat market and a bakery. On the far south end there was a string of ladies hat shops, a dry goods store and, in the early 1920s, Piggly Wiggly store No. 14, before Sendik's arrived in at the dawn of 1932. Next to that was a space that was for many years a fruit and veg stand.
But at 2647 was, from about 1937 until about 40 years later, The Tuxedo, which was initially owned by Denny Holland and Bill Quasius, though Holland left in 1941 to take over the former Lindy's at 2575 N. Downer Ave. (home, much later, to The Chancery), which he remodeled and renamed the Town House, and later, Denny Holland's steak house.
An early ad for the Town House called Holland, "your host on the Gold Coast," and boasted that one could, "wine and dine in an atmosphere as modern as tomorrow," while enjoying live music by organist Martin Pflug and singer Al Rick.
I should note that the space appears to have initially housed a tavern, run by Carl Sonnenberg, before becoming a grocery store a few years later.
In 1917, when it was Home Bros., ads boasted that it stocked Pabst Quality Butter, "churned on the Pabst Stock Farm, Oconomowoc, Wisconsin."
In 1922, Mabel Bradshaw and Clara McClintock opened the Croydon Tea Shop, which lasted five years. The next few years find a long run of classified ads offering the space for rent, though permits suggest it was used at least once, maybe more, in spring for the sale of fireworks.
Fred Riepl opened his own "tea shop" in the space in 1931. By 1935, with Prohibition consigned to the dustbin of history, Riepl ran a tavern, but still called it Riepl's Tea Room.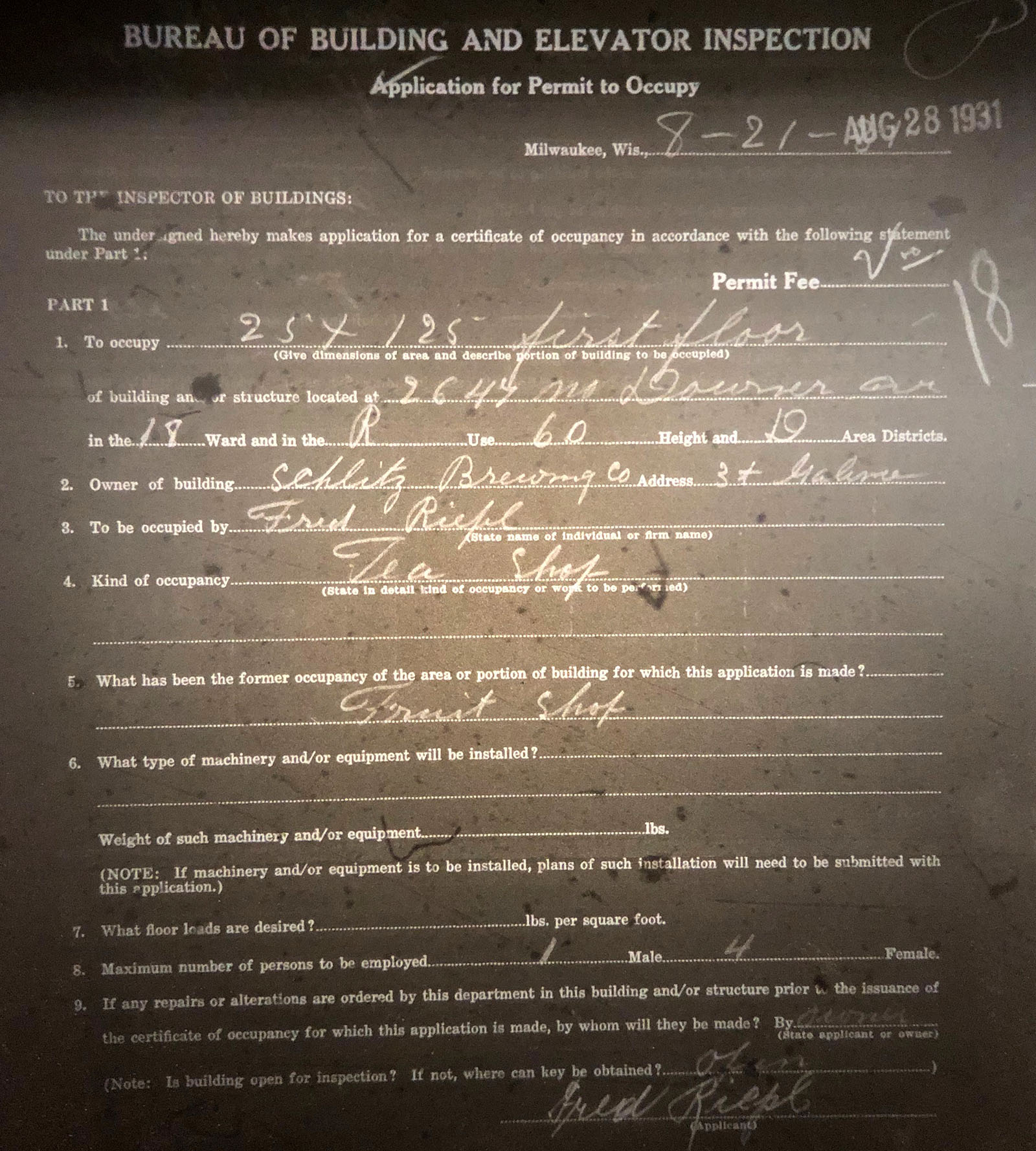 Soon after, however, The Tux arrived and got comfy, cycling through a few owners over the years.
When Quasius died in 1945, his wife Aggie took over, and she sounds like she might've had a sharp sense of humor. In 1948, the Sentinel noted that on Christmas Eve, the Tux was one of just a few bars open in town and Aggie, "asked all patrons whether they were neglecting their families before serving them drinks."
Elmer Schmidt, left, in a photo posted to Facebook by his granddaughter, Andrea Warner.
Soon after, however, she sold to Elmer Schmidt and Arthur Phillips, who also partnered to run the Tumbleweed Bar, 2701 N. 3rd St., at Center Street.
Elmer passed away in 1959 and his wife Ella took over, and the family kept it until it closed. The last permit I could find, from 1972, noted that Donald Schmidt was the owner, though his daughter says that her mother ran it after her father did.
"My dad passed away unexpectedly in June of '73 and ownership passed over to her," says Andrea Warner. "I suspect she was a bit more behind the scenes because she was three months pregnant with me when dad died. I know my half brother, Rocky, and my uncle, Mer, were managing it for her, at least in terms of the day to day while she did some of the behind the scenes while taking care of me."
In '72, the Tux was back in the news as part of an article about the lowering of the drinking age to 18. A reporter hit a bunch of taverns and wrote that 29-year-old bartender William Valentine noted that a number of "young people" came into the bar, where there was a "noisy crowd" after midnight.
Valentine was happy to see young faces.
"It's nice to see chicks without wrinkles and stretch marks," he told the Sentinel, offering both some insight into the then-current clientele and the future customer.
The Tux served its last drinks in 1977.
An undated menu. (PHOTO: Spencer Hoyt/Facebook)
But, the place was known for more than drinking, it was also renowned for its sandwiches and comments on social media about the Tux find people waxing lyrical about the burger, the ham and cheese sandwich and the ribeye sandwich.
The Tux was also popular with the UWM crowd and at least one fraternity held a regular "study night" there. The bar even advertised in the UWM Post newspaper in the 1960s.
Long after it's gone – the entire building now housing the ever-growing Sendik's – the Tux still stirs memories, as evidenced by the comments on social media, the question from a reader and even a 2015 reunion of former regulars and employees.
"I worked there for years," wrote someone calling himself Kevin New Orleans on Facebook in 2018. "It was a great little bar filled with wonderful memories and friendships I still maintain. Neighbors, UWM students and bar hoppers may have spent some nights in the long gone but not forgotten East Side institution."
Facebook Comments
Disclaimer: Please note that Facebook comments are posted through Facebook and cannot be approved, edited or declined by OnMilwaukee.com. The opinions expressed in Facebook comments do not necessarily reflect those of OnMilwaukee.com or its staff.