SportClub strives to succeed Downtown as a different kind of sports bar
SportClub, a new bar and restaurant concept from Mike Eitel, held a friends-and-family preview in advance of its Feb. 28 official opening, and – forgive the early editorializing – two immediate thoughts: Finally. And also, fingers crossed.
Finally, as in finally something has moved into the long-vacant space at 750 N. Jefferson St., which last housed Blackthorn Pub more than four years ago. Fingers crossed that, after both Rivalry and Upper 90 closed in the last six months, this Downtown sports bar can succeed where, and in ways, others did not.
Early indications, from OnMilwaukee's sneak peek on Friday, are that SportClub has the right tone, and team behind it, to do just that.
SportClub's origin story is pretty simple, said Matt Sievers, VP of Marketing for the recently launched Caravan Hospitality Group. While driving to the bank, Eitel passed by Blackthorn, saw it was available and decided to change that.
After he signed a lease last fall, the space got new paint, fixtures and light renovation, refreshing what had become an empty eyesore at a prime location – at the corner of Jefferson and Mason Streets, kitty-corner to The Pfister Hotel and a block south of Cathedral Square. SportClub boasts a warm, polished interior, sleek and new but with 1950s-inspired "varsity" décor that makes it feel classic and refined.
The concept, embracing "the sport of celebration," as Eitel described it, takes that cultured, upscale feeling beyond the aesthetics to the food, drinks and atmosphere.
SportClub features 30 tap beers, a lengthy list of champagnes, a mimosa menu and craft cocktails. The globally eclectic menu aims to convey the best of international stadium and street food, Bar Manager Peter Dietrich said. And indeed, looking at the menu, you feel like you could be ordering from a more creative, gourmet concession stand at a World Cup game abroad.
The "Preseason Lineup" menu that was presented during the soft opening included such exotically distinctive items as Salchi Papas, described as "a Latin American street favorite" of fries and fried hotdog "art" topped with mayo and Panamanian Chombo hot sauce ($6.95); tempura-battered Korean Popcorn Chicken tossed with sweet and spicy sauce and served on a beet and root vegetable slaw ($8.95); Panga Hot Fish ($7.95); Sportdog of the Week; Drunken Noodle ($9.95); Meat on a Steak (chicken satay $5.95, grilled steak $7.95); a sweet Ethiopian Puff Puff fried dessert, and more.
There's also a shareable Mezze Platter of Mediterranean and Middle Eastern-inspired spreads, dips and salads, with fresh and pickled vegetables, olives, feta cheese and flatbread chips, which is offered every Friday from 11 a.m. to 3 p.m., along with bottomless mimosas, as part of Sportbrunch.
As its name makes obvious, this is a sports bar. But the vibe is less tawdry memorabilia on the wall and patrons shouting at TVs than convivial, communal revelry – tasteful, casual but still competitive enough a place where you can curse a Liverpool collapse.
SportClub has introduced fun and inventive game-like elements, such as a section at one end with bleacher-style raised stadium seating, a concession stand that serves easy carryout lunch for on-the-go workers Downtown and a private event space for up to 30 people called the Boot Room with its own TVs and bar (and a cool display of old-fashioned leather soccer balls). Spacious and bright with big windows that can be opened in warmer months, SportClub plans to add a patio and a sidewalk café later this year.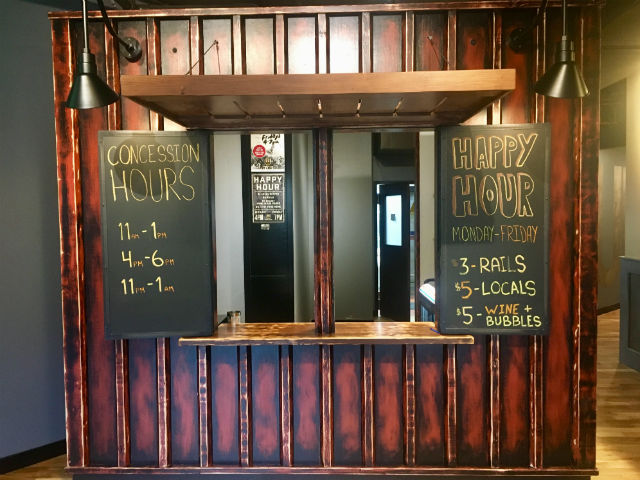 Caravan's flagship property is Nomad World Pub, a soccer bar, to be sure. And while SportClub certainly will cater to futbol fans – particularly with its Match Day Breakfast on Saturday and Sunday mornings for Euro-league lovers – Sievers stressed that it's not a soccer bar, saying "we're sport-neutral."
During March Madness, SportClub wants to be a prime place to watch the NCAA Tournament; in April and May, a spot to catch Brewers games and (hopefully) Bucks playoff basketball; and, of course, in June and July, a proud and popular World Cup joint – though the hospitality group's forthcoming Nomad Nacional in Walker's Point will wear the undisputed soccer crown when it opens in the spring. The 20 TVs will show matches, old movies, obscure shows and non-sports programming.
After turning this project around in four months, and now immediately focusing on Nacional's development, the Caravan team has barely had time to take a breath. Even after a late Thursday night event, though, Dietrich's staff and Eitel's employees whirred about, accommodating customers and putting on finishing touches. At one point, while we talked to Sievers, another manager came over to ask if the bar should be putting straws in all the beverages, or just certain ones.
SportClub is a unique concept, well-executed and smoothly operated. It's striving to be a different kind of sports bar – one that celebrates and embraces the experience of watching games and being a fan, and is unlike any other. Fingers crossed that it can be the one Downtown, finally, that flourishes.
Facebook Comments
Disclaimer: Please note that Facebook comments are posted through Facebook and cannot be approved, edited or declined by OnMilwaukee.com. The opinions expressed in Facebook comments do not necessarily reflect those of OnMilwaukee.com or its staff.