First Look: Rock Country bar, restaurant and music venue
Rock Country, a bar, restaurant and music venue at 11400 W. Silver Spring Rd. on Milwaukee's Northwest Side, opened at 4 p.m. today in the former Jokerz Comedy Club. OnMilwaukee was there to check it out and get a tour from owner Brian Ward who also owns Ward's House Of Prime and three Point Burger Bar locations (and possibly more in the near future!)
The building, located between Silk Exotic Gentlemen's Club and Milwaukee Harley-Davidson, includes a restaurant and full bar on the main floor and a 9,000-square foot music venue with a stage, dance floor and bar on the lower level. Both spaces underwent a major remodel, including new flooring and a variety of artistic flourishes, such as a massive American flag light fixture in the dining area and another large flag comprised entirely of Budweiser cans.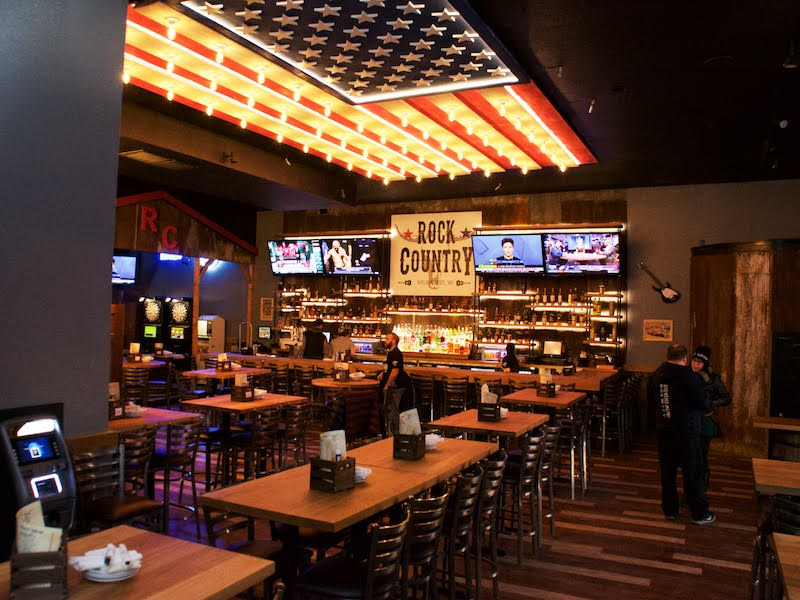 "Because it was Jokerz Comedy Club space, the venue was already set up to accommodate live performances," says Ward.
The music venue will open on Fridays and Saturdays at 8:30 p.m. The bands will be primarily local and country or "church festival" musical groups with some national groups mixed in. This weekend features Chasin Mason and Rebel Grace; King Solomon, The Boogie Men and Eddie Butts Band will also gig in February.
"Music has always played a part in the success of our venues, but it has never taken 'center stage' to the degree that is will at Rock Country," says Ward. "It's great to bring live music to this part of town."
The bar includes an impressive selection of whiskey, bourbon and Scotch along with micro and macro beers, house cocktails, wine and more.
The food menu includes Texas smoked chicken, Kansas City pulled pork, chicken and waffles and a Friday night fish fry. The restaurant is open nightly from 4 p.m. until bar time, serving a full menu until 10 p.m. and a limited "late night" menu afterward. Food is available on both levels.
"While our entertainment is going to be first rate, it's very important to me that the food be an attraction all on its own," says Ward. "Simple and delicious."
Talkbacks
14751smah | April 9, 2018 at 4:30 p.m. (report)
Planned to go out with friends and have a great night out Sat. 4-7-18 at Rock Country Bar. So not the case. They charge $25 per person for a reserved seat, or $15 per person at the bar (first come first serve), they have maybe 20 chairs tops. If no seats at the bar you can stand at a table. A disabled women came in, there was one chair at the bar, a member from her party moved the chair over to where they were standing so she could be with them, but the manager would not let them. (plus she was rude about it) The guy who moved the chair and other people couldn't understand the problem with that. She wasn't in the way at all. The establishment told the guy to leave because he was trying to reason with them, but I guess the rules there are cut and dry and being the case, the whole group left. What happened to accommodating the customer much less a disabled person. Other comments were made by other people too, "Geee, for the amount of money you pay to get in this place, you would think the staff would treat you with some respect." Not a warm and cozy place, not welcoming or friendly at all. I personally will never go there again.
Facebook Comments
Disclaimer: Please note that Facebook comments are posted through Facebook and cannot be approved, edited or declined by OnMilwaukee.com. The opinions expressed in Facebook comments do not necessarily reflect those of OnMilwaukee.com or its staff.