MobCraft launches lager with yeast captured at former Falk Brewery
The Falk Brewery on the south rim of the Menomonee Valley at 29th Street was among the key players in Wisconsin beer for many years.
Founded by the same Falk family that later launched the Falk Corporation, which is still active nearby, the brewery later morphed into Falk, Jung & Borchert and ultimately was purchased by Pabst.
Some of the buildings from the complex survive and I visited them a few years ago (you can read about that here).
Inside the lagering caves at the former Falk Brewery.
More recently, members of the MobCraft Brewing team also visited the site and collected wild yeast from the lagering caves that survive under the former brewery's ice house. Then they made a beer out of it.
Gier Beer, which MobCraft's Brad Ward describes as a premium lager, will be on tap starting Friday at MobCraft's taproom, 505 S. 5th St., in Walker's Point.
"I'm a huge Falk brewery history fan," says Dave Olson, who wrote an article about the brewery on his wisconsinbreweriana.com site.
"I've always had a keen interest in that brewery," Olson says, noting that his wife works for Falk (RexnordGear).
"I'm semi-retired and a part-time employee of MobCraft, and like our founder an co-owner brewmaster Andrew Gierczak I have a degree in microbiology. When we geek out about beer it's different because of that. About a year ago I convinced him we should try to find a pre-Pro(hibition) yeast, given all the locations nearby."
Basically, Olson wanted to isolate an old beer yeast from the wild, and Giercak – who had previously worked with Best Place's Jim Haertel to try and collect yeast from old Pabst barrels – was game.
Trying to harvest yeast from old beer in the lab.
First, they attempted to collect yeast at a variety of sites around Walker's Point, including near the site of the old Melms Brewery (see photo toward the bottom).
Then they tried to do it by filtering the beer found in 1887 Schlitz and 1890 Pabst bottles that Olson bought (pictured below).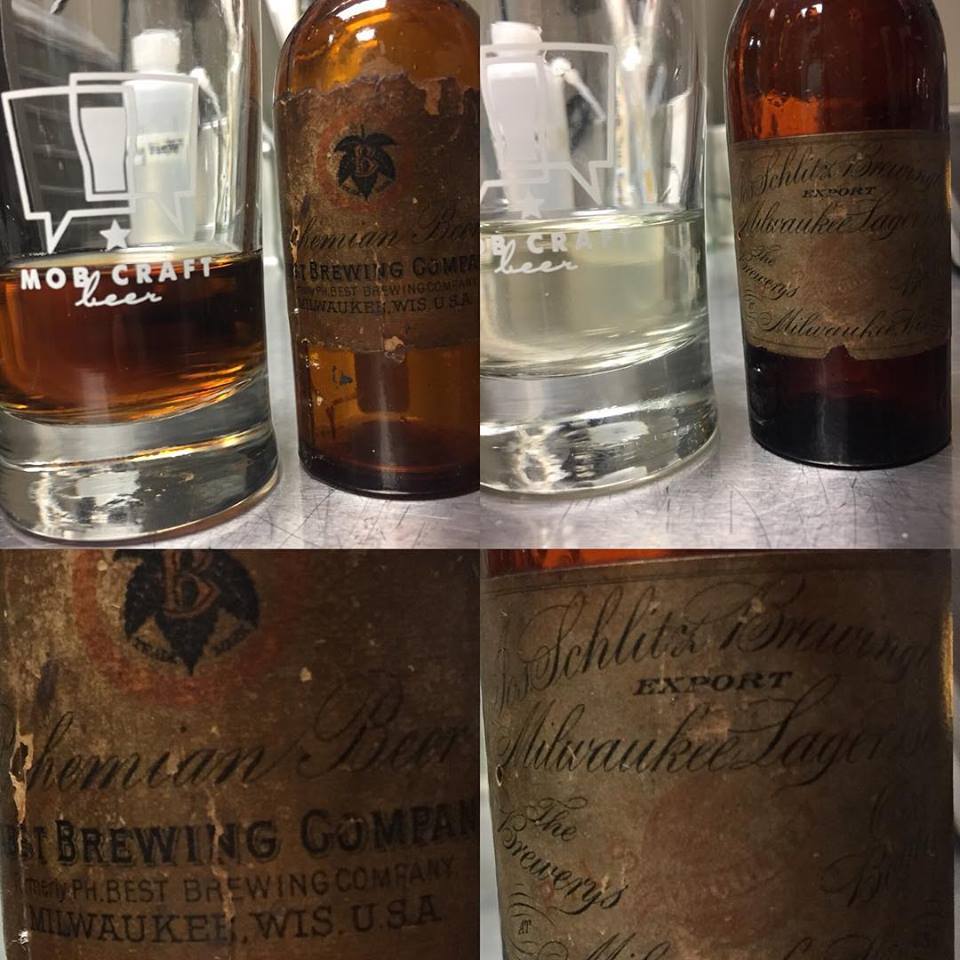 (PHOTO: Henry Schwartz/MobCraft Facebook)
"We struck out," says Olson. "Then I was thinking, 'where else can we do some yeast hunting.'"
That led them to Falk, where, in the lagering caves beneath the brewery's old ice house, "Andrew swabbed all over the place, as far back as we could get in the cellars. We got back to the lab and it dawned on me that we should treat the yeast like they're dormant. When they go dormant they spore up and the spores can last for hundreds of years.
Olson and Gierczak in the cellars at Falk.
"Andrew put some hard science and months of work in and he said, 'Dave, I think we have some lager yeast.' I may have planted the seed and facilitated things but the science side is Andrew's accomplishment, and it's quite a scientific accomplishment."
Next, the two made a five-gallon pilot batch of beer that was, Olson says, "pretty good.
"(The brewing team) took a generic recipe approach and tried it. Is it an ale (yeast)? Is it a lager (yeast)? It seemed to respond well to lager temperatures."
The first taste tests were successful, so MobCraft decided to package a batch in kegs and a few white label cans not for public release.
"The first batch was very successful and now we can tweak the recipe and get a better result," says Olson. "The original endgame was to make a pre-Prohibition beer. Others have tried but they always use a modern yeast. I don't think people realize how much of the flavor comes from the yeast."
The beer, Olson says, is pale colored and has a similar flavor profile to familiar modern American lagers. But they know that Falk's lager was dark. So, the work continues.
"We are at milestone one," he says. "One of the next milestones will be to create a dark lager. We want to come up with a flagship lager that MobCraft can brew all the time. And then we want to do some special lagers, too.
It will be nigh impossible to ever know for sure how Falk's original lager tasted, but it seems like MobCraft just might be able to get us close.
"It will definitely a beer with a lot of Milwaukee history," says Olson.
Facebook Comments
Disclaimer: Please note that Facebook comments are posted through Facebook and cannot be approved, edited or declined by OnMilwaukee.com. The opinions expressed in Facebook comments do not necessarily reflect those of OnMilwaukee.com or its staff.