Milwaukee Mocktails: The Jazz Estate
Besides sporting events and breaking bread over delicious meals, listening and experiencing live music is one of the key ways communities come together. "It allows us to experience the same emotions," said the legendary musician John Denver. "People everywhere are the same in heart and spirit. No matter what language we speak, what color we are, the form of our politics or the expression of our love and our faith, music proves: We are the same."
The Jazz Estate, located on Milwaukee's East Side, exemplifies John Denver's quote, serving as yet another Milwaukee gem and treasure that embodies passion, craft, art, intimacy and so much more through soothing rhythms, music and refreshing drinks. Immediately when you enter The Jazz Estate, the environment is welcoming, setting the mood for a potential memorable evening.
A few months ago, my friend and her significant other invited me to check out The Jazz Estate's mocktails, and the experience – the ambiance, the music, the drinks – took my breath away.
"At The Jazz Estate, we are committed to making sure everyone is included and want to make sure everyone enjoys their experience with us," said general manager Jeff Kinder. "We have regulars that come here for the music and mocktails, so it's been well received. Plus, surprisingly 15-20 percent of the beverages that we create a night are mocktails."
Although The Jazz Estate has been around since 1977, it was recently purchased three years ago by John Dye, also the owner of Bryant's Cocktail Lounge. Not only has Dye preserved the energy, history and ambiance of The Jazz Estate, he's brought his mentality of serving the best crafted drinks.
The Jazz Estate mocktails are staples not only on the East Side but throughout the community. How does The Jazz Estate differ from other refreshing mocktails throughout Greater Milwaukee, one might ask? Answer: Rishi tea and homebrew coffee, which were game changers for me, adding an impressive depth to the drinks. Each of these crafted mocktails sell for just $7.
The Easy Walker is a mule-inspired drink and is one of two fan favorites amongst patrons. After ordering it, it became very clear why. Not only is it healthy, but it's reinvigorating, with tangy flavors (raspberry green tea, lime, ginger beer) filled with love.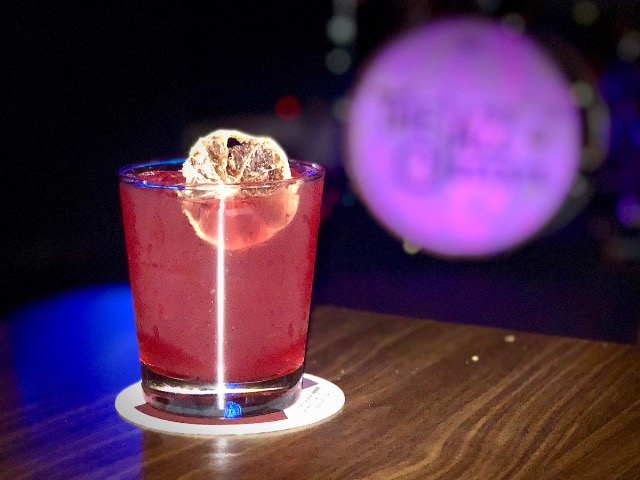 The Paradise Montana is another bright and fresh mule-inspired drink. The combination of flavors makes this beverage well-balanced – and the perfect drink to have while taking in some soulful jazz.
Talk to the Shadows reminded me of a White Russian, but I think it's way better. It is hands down The Jazz Estate's fan favorite, and it definitely provides an energy boost that will help you get you through the night.
Easy Walker: Rishi raspberry green tea, lime and ginger beer garnished with a hydrated lime

Paradise Montana: Rishi peach blossom tea, orange, lime and ginger beer garnished with a hydrated lime

Talk to the Shadows: Hawthorne cold brew coffee, housemade horchata and nutmeg
The next time you are searching for the best live music in the city, check out 2018 OnMilwaukee's Best Live Music Bar – as voted on by you! – on Milwaukee's East Side. Not only will you be immersed with culture and history, but the refreshing mocktails will be the perfect pairing to the soulful music tugging at your emotions and taking your breath away.
Facebook Comments
Disclaimer: Please note that Facebook comments are posted through Facebook and cannot be approved, edited or declined by OnMilwaukee.com. The opinions expressed in Facebook comments do not necessarily reflect those of OnMilwaukee.com or its staff.