Eagle Park's new distillery heats up with the arrival of its still
When Eagle Park Brewing Company opens its second facility – slated for completing in spring – at S64 W15680 Commerce Center Parkway in Muskego, it will be more than a second brewery and taproom. The plans also call for a cidery and a distillery.
In fact, Eagle Park's brand new 240-gallon hybrid still, manufactured by Canada's Specific Mechanical – which makes equipment for breweries and distilleries – arrived on Thursday.
"Our plans are to provide a well-rounded portfolio of spirits and liquors, allowing us to have a diverse cocktail menu at the tasting room as well as offer unique products to bars around the state," says co-owner Jake Schinker.
That portfolio, Schinker says, is expected to include vodka, gin, rum, whiskey, bourbon, brandy, agave spirits and more.
In order to make it all happen, Eagle Park has hired former Breckenridge Distillery head distiller Jordan Stielow (pictured at right) to run the distillery.
"Jordan is extremely talented and well rounded as a distiller so we will be taking full advantage of having him on our team. We are really excited to offer our beer focused knowledge base of fermentation science to the spirits world."
Founded in 2007, Breckenridge – which claims to be the world's highest distillery, located at 9,600 feet above sea level – produces whiskey, vodka, gin, brandy and rum, as well as bitters and cordials.
"The best trend in beverages is that people are consuming more locally," says Stielow. "Spirits are all about community and sharing. Whether it's physically sharing cheese curds, or if you're sitting around a fire sharing an experience over a whiskey, food and beverage cultivate a sharing community every day.
"Our goal is to encourage this community, by offering world-class spirits while using locally inspired recipes and ingredients to showcase the quality that this community has to offer."
The new, $3 million, 20,500-square foot facility was designed by Dan Beyer Architects and includes a 20-barrel brewhouse with equipment manufactured by Oconomowoc-based Quality Tank Solutions (QTS), a private event room, a to-go beer counter, and a taproom and restaurant that can accommodate more than 300 guests.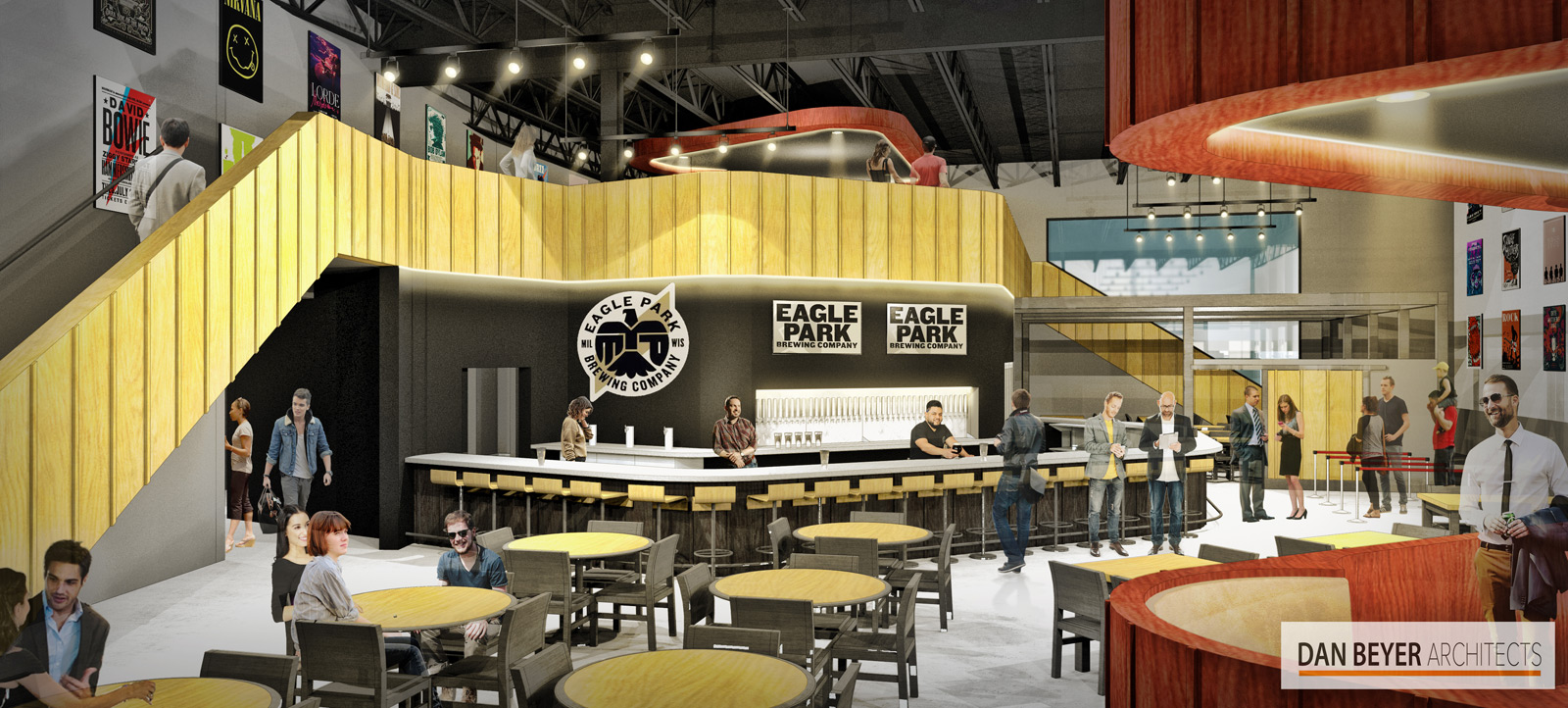 It will be more than four times larger than Eagle Park's Hamilton Street facility.
In 2019, Eagle Park was named the second best new brewery in the country by USA Today and ramped up production from 600 to 1,600 barrels. The brewery produced about 380 barrels in 2017.
Schinker says that the distillery is expected to produce about 3,000 cases worth of spirits in its first year.
"We plan on filling over 100 barrels of whiskey/bourbon the first year and ramping up quickly from there," he says, adding that the distillery's bourbon will rest at least 4-5 years in barrels before being released.
The facility will have space to age about 300 barrels.
Schinker says that, initially, the whiskey mash bills will be fairly traditional.
"We will be doing multiple base recipes," he says. "We all have our own favorite whiskey styles so we want to offer a wide variety: rye, single malt, traditional bourbon, etc."
As for ideas like unique barrel finishing and distilling some of Eagle Park's own beers, Schinker says that's all still in the works.
"We are still playing with how our beer and spirits programs will commingle but we have some cool concepts in the works," he says, adding, "as far as finishing, we have a little while to figure that out."
Eagle Park hopes to have its brewery and distillery up and running by March and is eying April or May for opening the facility to the public.
Facebook Comments
Disclaimer: Please note that Facebook comments are posted through Facebook and cannot be approved, edited or declined by OnMilwaukee.com. The opinions expressed in Facebook comments do not necessarily reflect those of OnMilwaukee.com or its staff.