Burning Through Brew City Bonus: Amilinda's Currant Affairs cocktail
"Bar Month" at OnMilwaukee is brought to you by Miller Brewing Company, calling Milwaukee home since 1855. For the entire month of March, we're serving up fun articles on bars, clubs and beverages – including guides, the latest trends, bar reviews, the results of our Best of Bars poll and more. Grab a designated driver and dive in!
Milwaukee may not be known for its hot weather, but that doesn't mean that the Brew City can't bring the heat – namely from the kitchen. That's why Senior Developer Nick "Power Palate" Barth and Pop Culture Editor Matt "Powder Puff Palate" Mueller are on a journey, burning their buds and torching their tongues across town to find the city's spiciest dishes. Grab your fork and a fire extinguisher – this is Burning Through Brew City.
Currant Affairs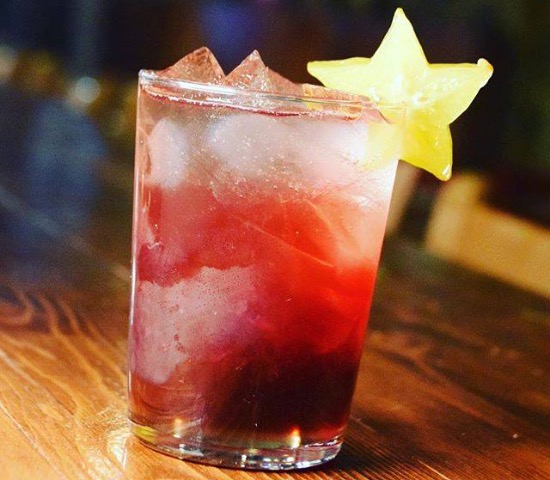 Amilinda
315 E. Wisconsin Ave.
(414) 369-3683
amilinda.com

Nick and I have so far burned our way through 15 fire-throwing Milwaukee restaurants. But despite what my doctor and stomach urgently try to tell me, that's nowhere near enough. Our main goal is to find the city's spiciest food, but sometimes we just want to take a little detour off our typical blazing trail and try some hot stuff from all over the place – just in the name of trying some hot stuff from all over the place.
Introducing Burning Through Brew City Bonus episodes, sampling spicy oddballs off the typical menu – items like the world's hottest peppers, outrageously fiery snack stunts and, in this article's case, diabolical drinks to quench one's thirst while searing one's throat. These won't be ranked on our usual Burning Through Brew City scale. Instead, these are just one-off side adventures for your entertainment and awareness. And also because we're masochists who need help (and not just in the form of a cooling glass of milk).
And speaking of refreshing drinks, let's gulp down some delicious napalm!
Considering it's currently Bar Month here at OnMilwaukee, we decided to do our part and find some of the city's spiciest drinks – starting over at Amilinda. For the past three years, owners Orry and Gregory Leon have brought the bright and thrilling flavors of Spain and Portugal to your table in its Downtown haven at 315 E. Wisconsin Ave. But my and Nick's attention was drawn away from the restaurant's beautiful open kitchen – serving up a feast for your eyes and your taste buds – and toward the bar directly to its left, where we would find our nectar-like nemesis: the Currant Affairs.
As one might expect from its punny name, Amilinda's Currant Affairs cocktail shines a beaming spotlight on black currant syrup, mixed with citrus, jalapeño syrup, tequila, seltzer – and, oh yeah, an in-house infused Trinidad scorpion vodka (with a dash of piri-piri) that you can splash in for an extra boozy burn. Leon then tops off the drink with a cute little starfruit garnish as if it's mocking you. "Me? Burn your taste buds? Never," it says. "I'm just a happy, pleasant beverage; what could I POSSIBLY be hiding?" I hope it supernovas and dies into nothingness, because it is a LIAR.
Is the Currant Affairs booze news you can use? Or does this drink require another separate drink to help put out the liquid smoke? Let's sip on some spice and find out!
Nick's take
Heat-wise, the Currant Affairs is pretty level-headed. The jalapeño syrup is there with a little kick up front, followed by the smokier burn of the scorpion pepper at the back end. I had a taste of the scorpion pepper vodka beforehand, and though alone it burned hot and long, the sweetness of the black currant juice keeps that longevity under wraps in the cocktail.
Heat isn't nearly the only thing this cocktail has going. Take a second to savor your sip, and the flavors come in waves. The juices' tart sweetness sets the tone, followed by a one-two punch from the jalapeno syrup: first the unmistakable green flavor, then the mild-but-definitely spicy kick. If you opt for the piri-piri/scorpion vodka, you'll feel that warm up next. The carbonation keeps the whole thing light and clears out the palette for the next sip.
It's a spicy drink, but not just for the sake of it. It's well-balanced, tasty, and refreshing – a great happy hour drink or a solid start to your meal.
Matt's take
A drink mixed with piri-piri, jalapeño syrup AND scorpion pepper is more spicy ingredients crammed into one place than most full-size dishes we've sampled so far on this quest. And that's not even getting to that most famous of bar room burns: tequila. So yes, I was intimidated by the Currant Affairs ... until I snagged my first sip and proceeded to gulp down our entire glass. (Sorry Nick.)
Make no mistake: The drink definitely brings the heat, escalating swig after swig thanks at first to the jalapeño syrup and then the bonus burning sensation of the Trinidad scorpion pepper. The ice in the drink follows the starfruit slice's lead – aka A DECEITFUL FRAUD – but it's the true star ingredient, the black currant, that makes this much more than just a cup of jet fuel. The sweetness totally balances out the spice, resulting in a smooth yet surprising drink that's (and here's a word I never thought I'd use in a Burning Through Brew City piece) refreshing. It shakes awake the senses but then sweet-talks them into sampling another sip ... and then probably a second glass ... and then maybe a third too.
In short, it's a tasty beverage that's much more sophisticated and satisfyingly hot than any actually flaming drink.
Facebook Comments
Disclaimer: Please note that Facebook comments are posted through Facebook and cannot be approved, edited or declined by OnMilwaukee.com. The opinions expressed in Facebook comments do not necessarily reflect those of OnMilwaukee.com or its staff.