First look: Broken Bat's new Walker's Point brewery and taproom
Broken Bat Brewing is finally opening its taproom this week after a long delay fueled by the coronavirus outbreak.
Tim Pauly and Dan McElwee first opened their brewery on the lower level at 231 E. Buffalo St., in the Third Ward in spring 2017.
Collaborating with major league players like Tim Dillard, partnering with the Lakeshore Chinooks and selling beer at Wrigley Field meant that the brewery quickly outgrew its small space and more than a year ago, the two announced they'd found a new space across the river in Walker's Point at 135 E. Pittsburgh Ave.
Shortly afterward, Wizard Works announced it was taking over the old Broken Bat space and buying the small brew system, too. That brewery recently opened.
Over at the new Broken Bat, a new 20-barrel brew system was installed, along with a canning line, in March and McElwee started using it right about the time the entire world screeched to a halt, when coronavirus put the kibosh on the plan to open the taproom in April.
"(This happened) at absolutely the worst possible time," says McElwee. "We initially planned to open the first weekend in April.
"We had a lot of stuff in the works that ended up not happening because of the virus and all that. So we're kind of in uncharted territory here. We're not really sure what's going to happen, but we're hopeful for the future. It'll be great. We're not worried about that."
Part of the reason for that optimism has been the response to beer sales during the shutdown.
"We do a lot of canning," says McElwee. "More than we anticipated, because that was the only way we were able to sell beer since Saint Patrick's Day. It's been fairly consistent. People like to support small, local breweries so we get quite a few people. It's been nice."
Now, the time to welcome the public back has arrived. The taproom will open via online reservations on Thursday. Timed groups of about 60 will be allowed in and between groups, staff will give the place a thorough cleaning.
At normal times, taproom capacity will be about 215, McElwee says.
"It's very scheduled by design," McElwee says of the opening. "It gives people a chance to go outside. I think they can be here for about an hour and 15 minutes. It gives us time to sanitize, clean the place up. You can reserve more than one (slot). So then you can stay longer."
There's a lot to know about the opening on Thursday – with a special preview on Wednesday for mug club members – and you can find the details here.
What I can tell you is that the taproom is beautiful, with baseball-themed posters promoting Broken Bat brews and cabinets full of bobbeheads on loan from the National Bobblehead Hall of Fame and Museum across the street.
Alas, the baseball card men's room theme did not make the move.
There are 16 tap lines, as well as beer in cans.
The bar top is stunning, made from slices of a giant tree and varnished to a beautiful shine.
There's a mezzanine level but it has not yet been finished and remains in place for a potential taproom expansion, says McElwee, who adds that some outdoor seating along the sidewalk may pop up this summer.
In the big open room to the west, there's a 20-barrel brew system that will allow Broken Bat to shatter the roughly 600-barrel annual production record set in the old place.
There's also the canning line, where a lot of beer is going into cans.
Saving the best for last, this big open space, which used to house production of construction scaffolding (and, most recently, storage of Royal Enfield motorcycles), has been given over to a Wiffle Ball field that will be available for rentals.
"Tim's a big baseball nerd," says McElwee, "and he really wanted to put his own stamp on this, and this was his idea."
We got a peek inside to show you what you can expect when you see the new brewery and bar. Here's a look:
Broken Bat has been selling beer to-go
The taproom
16 lines of craft beer
Check out the gorgeous bar top
Of course, it's baseball themed ...
... so there are bobbleheads galore
And a Wiffle Ball field!
20-barrel brewhouse
Broken Bat plans to make more than the 600 barrels a year it produced at its old site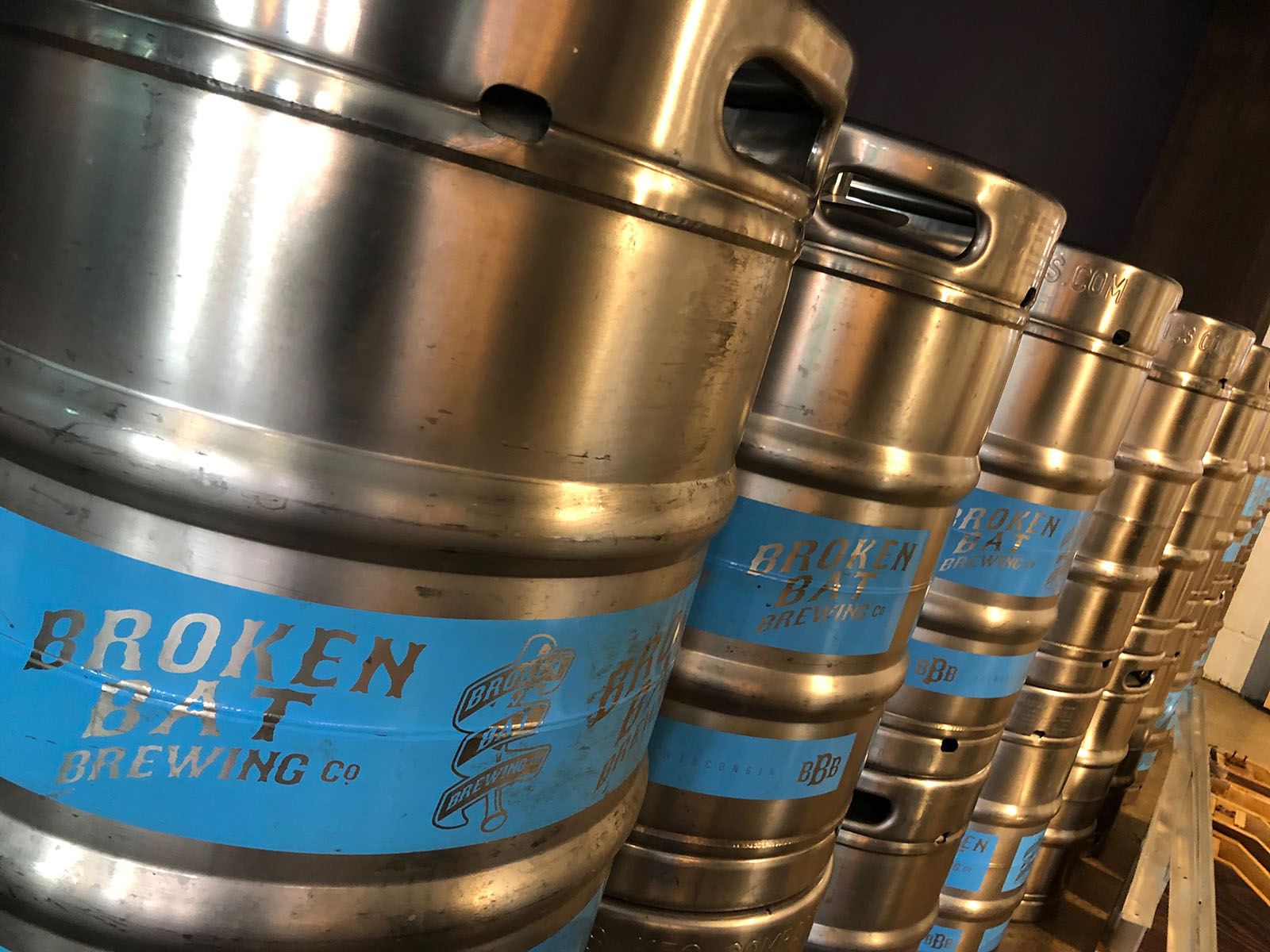 Located in a former industrial building
Facebook Comments
Disclaimer: Please note that Facebook comments are posted through Facebook and cannot be approved, edited or declined by OnMilwaukee.com. The opinions expressed in Facebook comments do not necessarily reflect those of OnMilwaukee.com or its staff.