Moran's Pub in South Milwaukee blowing out 22nd annual St. Patrick's Day party
"Bar Month" at OnMilwaukee is brought to you by Miller Brewing Company, calling Milwaukee home since 1855. For the entire month of March, we're serving up fun articles on bars, clubs and beverages – including guides, the latest trends, bar reviews, the results of our Best of Bars poll and more. Grab a designated driver and dive in!
A recently reinvigorated, family-owned Irish pub in South Milwaukee is hosting its 22nd annual St. Paddy's party on Saturday, calling it the biggest and best one yet.
Moran's Pub, 912 Milwaukee Ave., will celebrate St. Patrick's Day on March 17, from 7 a.m. to bar close, with great entertainment, sports, food and drink, and this year the blown-out festivities will extend into the street.
With support from City of South Milwaukee Mayor Erik Brooks to close off a portion of the block, Moran's Pub is working with local company Containers Up to install a fully furnished shipping container with a mobile Irish pub inside of it on Milwaukee Avenue.
The annual Moran's Pub St. Patrick's Day celebration will include Irish music and dance, authentic food and drink, giveaways, a fundraiser for Da Crusher statue, seven TVs showing soccer, rugby and NCAA Tournament basketball and much more.
Owner James Moran took over the pub last July from his parents, Jim and Joan, who founded Moran's in 1996 in South Milwaukee's historic downtown district. Over the last eight months, James Moran – who'd previously worked in engineering sales and is heavily involved in local community soccer development – has infused the second-generation bar with new energy and ideas.
He's introduced unique events, like FIFA video game tournaments and drinking game nights, led the pub's newly active social media and marketing presence and made Moran's the go-to soccer-watching bar in the area.
Moran on Tuesday called Brooks "very proactive," saying the major "is constantly looking to bring in new businesses to fill up the vacant storefronts." Brooks, he said, has been encouraging of his pub's growth efforts and, after hearing about his plans for the City of South Milwaukee's revitalization a few years ago, Moran decided to focus on running the family operation.
Below is the complete schedule and times of events for the Moran's Pub St. Patrick's Day celebration on Saturday, March 17. For more information, visit the Facebook event page here.
7 a.m.
Irish food: Irish sausage breakfast sandwiches will be served until 10:30 a.m., and from then on Irish stew, reuben sandwiches and corned beef sandwiches will be available.
Opening giveaways: To reward the first 50 people who arrive at the pub, Moran's will be giving away 25 St. Patrick's Day/Moran's Pub themed t-shirts and 25 Guinness collectors glasses (*one item per person until they're gone).
8:30 a.m.
Da Crusher fundraiser: Moran's will honor the legendary Crusher by helping raise funds through sales of limited-edition St. Patrick's Day Crusher T-shirts, and the life-size Crusher cutout will be available for pictures.
11:30 a.m.
Bagpipers: Moran's will be visited by a trio of bagpipers to prepare the bar for a day of great music.
12-3 p.m.
Irish music: Molly Noyes and Amanda Caretta-Hull, who make monthly appearances at Moran's, will be playing traditional Irish music throughout the afternoon.
2-2:30 p.m.
Irish dancing: The talented dancers from the Kinsella Academy of Irish Dance will visit the pub for an afternoon session.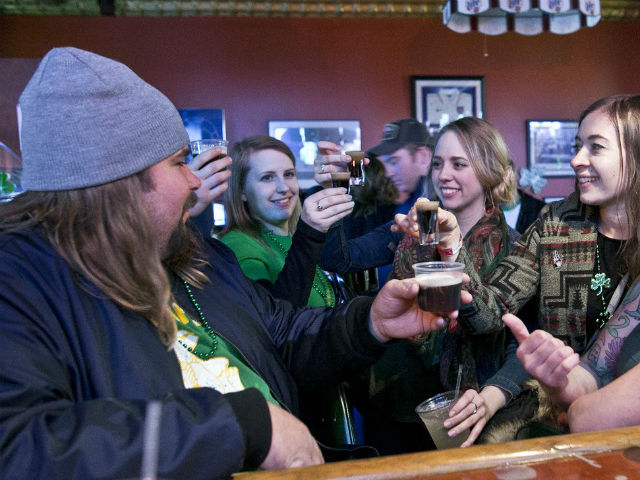 7-7:15 p.m.
Bagpipers II: More bagpipers will come by to kick off the evening musical session.
7:30-11 p.m.
More music: The Acoustic Trio will mix up its session with songs from modern and traditional Irish artists, as well as playing other popular music. It's possible there also will be more bagpipers and a second Irish dance group.
All day
Sports: On television, Moran's will show Premier League soccer games, the England vs. Ireland rugby match if it's available and March Madness basketball. At 10 a.m., it's Stoke City vs. Everton; at 12:30 p.m., it's Liverpool vs. Watford. The NCAA Tournament schedule is TBD.
Facebook Comments
Disclaimer: Please note that Facebook comments are posted through Facebook and cannot be approved, edited or declined by OnMilwaukee.com. The opinions expressed in Facebook comments do not necessarily reflect those of OnMilwaukee.com or its staff.