The cutting edge: A first look inside AXE MKE
Not since the invention of the Brawny Man in 1974 has being a lumberjack been this hot.
Within literally one month, Milwaukee will be the home of two ax-throwing experiences: the more family-oriented Fling, which just opened inside Bay View's Bounce Milwaukee, and now AXE MKE, the new East Side ax-slinging bar concept that hosted a media night Thursday evening at 1924 E. Kenilworth Pl.
Located inside the former Alpha Cleaners dry cleaning, the space has been entirely revamped by owners David and Marla Poytinger – creators of fellow experience joints like Splash Studio painting bar in the Third Ward and Nine Below mini-golf tavern on the East Side.
Gone is any semblance of a dry cleaners, replaced with a clean and rustic outdoorsman look complete with stone tables for gathering, some mancave-approved furniture, antlers decorated in their in their flannel finest and a raw wood and concrete main bar area.
Behind the bar, you'll find 23 tasty beer varieties, ranging from domestics to local craft brews and imports, all served in bottles and cans only, as well as cocktails with on-theme names like The Lumberjack, made with Knob Creek bourbon, and the LumberJame-O, made with – you guessed it – Jameson Irish Whiskey. Snacks (or should that be "snax"?) include woodsy options like spicy bourbon beef jerky from Bunzel's, soft pretzels from Milwaukee Pretzel Company and strawberry Pop-Tarts.
But let's cut to the chase. The star of AXE MKE is obviously the 12 regulation ax-throwing lanes, featuring wooden bullseyes where one can unleash their inner Paul Bunyan or Arnold Schwarzenegger from the opening credits of "Commando."
To answer the most obvious question: Yes, this is safe. AXE MKE does require all patrons (guests must be 16 years old and up, with those under 18 requiring adult accompaniment, and sandals or flip-flops are a no-no) to sign a waiver beforehand, but otherwise the venue is designed as safe and as idiot-proof as possible.
Each lane has three dividing lines: a blue line that should only be crossed after the ax has been thrown and stopped moving, a black line for the thrower to chuck from and the table line, where everyone else must be. And to make sure you're following protocol, several "axe-masters" are wandering about to make sure you're not boozily bumbling around with the blades during your hour or 90-minute session.
The axe-masters are also there to teach you how to chuck your forest choppers, which is both as easy and as hard as it looks. No matter whether you feel more comfortable throwing two-handed or one-handed, it's a smooth motion: a quick step forward and an over-the-back release. The hard part comes with getting the blade to stick to the wooden target at the end of your lane and not rebound off. Part of the science is releasing the ax at just the right moment; part of the science is figuring where you should stand so the rotation hits the bullseye at the right moment.
For more help on how to throw the blade, watch this Facebook Live featuring an AXE MKE axe-master attempting to teach some moron.
You are almost certain to bounce several axes off the bullseye in all sorts of defeating, humiliating ways before you get a solid throw to stick. But once you find your motion and your sweet spot to stand, and you get your first toss to satisfyingly "shtook" into the target, it becomes absurdly addictive – like darts but with an even more visceral satisfaction.
Once you get good, you can start actually scoring a game against your friends. A red bullseye is five points, the white ring is three points, the blue is one, and, on the final throw of the match, if you call "clutch" and hit one of the two small black circles in the top left or right corner of the target, you earn seven points.
If you start getting really good at ax-throwing, AXE MKE plans to host competitive leagues as the bar continues to get off its feet, along with special themed events like "zombie ax-throwing" in honor of Halloween. What that means (Real zombies? Zombies throwing axes?!) we will find out in time.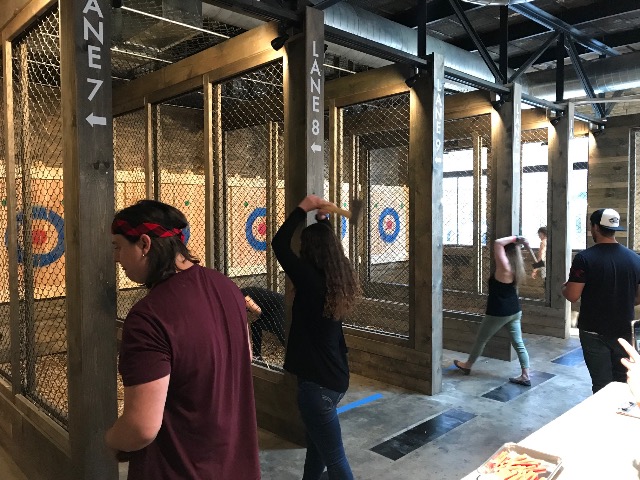 As for the less distant future, AXE MKE is prepping for its grand opening on Saturday, June 16, from noon until midnight, with the doors opening at 11 a.m. Reservations are currently available online (though going fast) and come with free beer from Lakefront Brewery and free food from fellow East Side residents Beans & Barley, Ian's Pizza and Insomnia Cookies.
Plus, if you're one of the first 100 people through the front door, you earn a free East Side swag bag courtesy of AXE MKE's new neighbors.
Reserved lanes cost $25-30 per person for 90 minutes, while walk-ins are $20 a person for an hour. Private events are also available, from 12 to 99 guests, ranging in price from $350 to $2,000. For more information on AXE MKE, visit the bar's website.
Facebook Comments
Disclaimer: Please note that Facebook comments are posted through Facebook and cannot be approved, edited or declined by OnMilwaukee.com. The opinions expressed in Facebook comments do not necessarily reflect those of OnMilwaukee.com or its staff.